The health of members in our community is important. Due to the spread of the coronavirus, as a precaution, several events have been cancelled throughout the community. Please call to confirm events.

It's been four years since Hope Mills Mayor Jackie Warner created the Hope Mills Mayor's Youth Coalition. It is composed of students from Gray's Creek, South View and Jack Britt high schools and seeks to better inform the community's young people on the business of the town.Since it was started, Warner has been impressed with the talents of the young people who have served on the coalition and how involved they were with their schools.
Initially, she recruited students who were active in the Student Government Association at each of the three schools. But as time passed, she learned there was a problem with that.
The SGA students as a group were extremely busy at their respective schools and often involved in multiple projects. So this year, Warner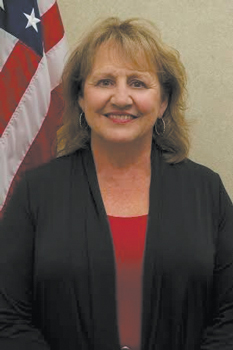 increased the pool of students involved in the coalition. She sent an email to the principals of each of the three schools. She asked them to nominate two members from their SGA as usual, but also extended an invitation to members of the Key Club and students involved in JROTC.
"We've found that Key Club members volunteer a lot,'' Warner said. "I've also been really impressed with the JROTC programs.''
The result this year is the largest group of coalition students the town has ever had, and they are tackling a project called Hope Mills Beautiful as they work together to coordinate a litter sweep of the town on April 18.
"It's neat the way all three high schools have worked together,'' Warner said of the current group. "I think the benefit is building unity among the youth (and) how they relate to each other. Bringing them to the table, it's interesting to watch them work well together.
"We hope to get the majority of them involved in our Citizens Academy.''
The chairman of this year's coalition is Candace Williamson from South View. She is a member of the JROTC at her school.
Vice-chairs are Christopher Vanderpool of the South View Key Club and Melissa Medina of the Jack Britt Key Club. The secretaries are Hunter Stewart of Gray's Creek SGA and Briana Jackson of the South View SGA.
In addition to their work on the litter sweep, this year's coalition has composed a letter endorsing the town's work on Heritage Park. Down the road, they may be looking at finding ways to improve conditions in Hope Mills for people with disabilities.
Williamson, who is a senior at South View, initially didn't want to be involved in JROTC but decided to join in order to carry on a family tradition.
"I realized we are all a big family and we all have different stories,'' she said. "We all came together. It taught me leadership skills and stuff I can carry on after high school.''
Williamson's JROTC advisor at South View, Sgt. Maj. Ruby Murray, said Williamson reminds her of a butterfly. "She didn't let her light shine,'' Murray said. "She'd sit in class and keep quiet, but she's always gotten her work done.''
As years passed, Murray said Williamson displayed more and more leadership ability, eventually rising to the role of battalion commander at South View.
"She started showing more leadership ability, taking charge,'' Murray said. "She became the eyes and ears her second year. When the mayor sent out that email (requesting nominations for the Mayor's Youth Coalition), I knew I had to put the right person in charge.''
Williamson said being a member of the coalition is helping her learn how to better herself and hopefully avoid repeating some of the mistakes her elders have made.
She said being part of the coalition has helped her understand everyone has their own voice. She feels she and her fellow members of the coalition are trying to use their various voices in harmony so they can come to agreement on decisions.
She feels the mission of this year's coalition, as shown by their involvement in the Hope Mills Beautiful project, is to make the town better.
She said the students from the three different high schools bring a variety of perspectives to the table. "I think that's a good idea,'' Williamson said, "sitting at the table with different leaders.''
Pictured from top to bottom: Candace Williamson, Jackie Warner