Due to the spread of COVID-19, as a precaution, the delivery of the smoke alarms has been postponed. The new date is to be determined.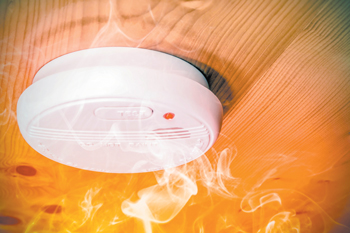 Free home smoke alarms are coming to Hope Mills, courtesy of the American Red Cross.
Phil Harris, executive director of the Sandhills Chapter of the Red Cross, is looking for community volunteers to make up teams that will be headed for Hope Mills on Saturday, April 25, to areas in town that have been identified as being at higher risk for home fires or lacking smoke detectors.
The Red Cross has been involved in installing smoke alarms since 2014, and the program has now gone national, Harris said.
"We do it throughout the year, but we want to make a push in April,'' he said.
Harris said the Red Cross knows that working smoke alarms save lives. He said since the Red Cross began installing the free smoke alarms nationwide, 715 lives have been saved by alarms that were placed in homes.
"We know people don't think it will ever happen to them,'' he said of a home fire. "If we get that extra alert, we remind them they only have two minutes to get out,'' he said.
In addition to installing the smoke detectors, the Red Cross provides the people they visit with basic fire safety information."Do they know how to crawl below the smoke?" Harris said. "Do they know to get out and stay out?''
Harris said the Red Cross also stresses the importance for families to have a plan on how to get out of the house and where to go when they have left the home.
In addition to having at least two routes planned to escape their home in a fire, Harris said it's important for families to have a central meeting place where everyone should rendezvous when they've left the house.
"You need to have a meeting spot so the firemen don't go in and think somebody is still in there,'' he said. "Everybody is accounted for. All of those things come into play with saving a life.''
Harris said the Red Cross is able to provide free smoke detectors thanks to some grants and the support of major sponsors like Lowe's and Delta Airlines. He said the Sandhills chapter continues to seek more local businesses to sponsor the program in this area.
The Red Cross also has a home fire campaign that can provide direct financial assistance to families who have been displaced by a fire.
Previously they've helped 166 families deal with the aftermath of a fire.
The alarms the Red Cross installs are what Harris referred to as 10-year alarms. "We found these are great for seniors who can't change a battery periodically,'' Harris said.
Harris said the Red Cross cooperated with the Hope Mills Fire Department to identify high-risk areas in the town most in need of smoke detectors.
Now they need approximately 125 volunteers to fan out in teams on April 25 and install the smoke detectors.
Each team will be composed of four people, Harris said. There's the actual installer, one member who will record the number of people in each home, one to educate the family on basic fire safety and one to introduce the team to each household and explain its purpose.
People can volunteer as late as the day of the event, but early signup is preferred. They can sign up at soundthealarm.org or call the local chapter at 910-867-8151.Hope Mills Mayor Jackie Warner applauds the Red Cross for bringing the free smoke detectors to Hope Mills. "It's going to improve safety,'' she said. "I was glad they targeted Hope Mills. This is the first time they've entertained coming here.''