Warmer weather will be upon us soon and with it the long list of projects and home improvements that have been put off through the cold winter months. Whether it's an upgrade to the garage, re-tilling the garden or painting the front porch, there is always something to be done, and fi nding the most effi cient and productive way to do it is not only smart in the long run, but often more convenient in the short term.
The Homebuilders Association of Fayetteville is here to help with that, just as they have been for the past 11 years, providing inspiring ideas, innovative products and plenty of encouragement for whatever project needs to be tackled.
On Feb. 25-27 visit the Carolina Home and Garden Show at the Crown Center to see the latest products designed to keep your castle in tip-top shape. There will be vendors for pretty much any home upgrade or improvement project you can think of, as well as outdoor things like landscaping, play sets and even decorative curbing and fl ag poles.
With so many folks on tight budgets and looking for ways to keep their homes running as effi ciently and as inexpensively as possible, look for vendors to help with everything from saving money through conservation to the latest high-tech ways to make the most of our natural resources.
"There are several vendors that will be there to talk about energy conservation and renewable energy," said Natalie Woodbury executive offi cer of the Homebuilders Association of Fayetteville. "One guy has solar panel attic fans — renewable energy. PWC will be there and they will defi nitely be talking about how to conserve."
There will even be vendors with earth friendly cleaning products.
"We have several new pool and spa vendors that will have their pools and spas on display," said Woodbury. "Green Biz will be there, too. His booths are going to feature his garden center which is something new that he has built on his property. He will be bringing products from that."
In addition to all the great products to choose from there will be free classes, too.
"There are speakers every day on a variety of topics, so I would suggest people go to the website to see the topics and times," said Woodbury. "There are seminars that go on all three days."
Want to take up organic vegetable gardening? Join Shauna Haslem for a spell and learn the basics. Jen Smith and Leslie Keiwra will teach the benefits and how-to of worm composting while Kimberly Van Borkulo will share her knowledge of waterwise gardening.
Fayetteville's favorite gardening expert Roger Mercer will also speak at the home show about favorite perennials for the Sandhills.
Special guest Roy Underhill, host of the PBS show The Woodwright's Shop will be in attendance as well.
"We are excited to have him back," Woodbury said."He is a crowd favorite."
Underhill eschews power tools and high-tech gadgetry in favor vintage, musclepowered tools to make everything from furniture to Victorian-era toys. Learn the tricks of the trade as our forefathers knew them and see what amazing pieces Underhill will come up with next. Check him out on stage, or visit him at his on site workshop and try out some of his tools.
Whether ideas are on the agenda or a big project is in the working, Woodbury is sure that there is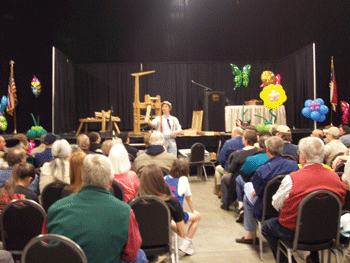 something for everyone at the show.
"It is a place to go where you can go to one building and see a variety of things for your home — from your garden to your bathroom to your kitchen. It is one stop shopping."
The show runs Friday, Feb. 25 from noon - 6 p.m., Saturday, Feb. 26, 10 a.m. - 7 p.m. and Sunday, Feb. 27 from 12 - 5 p.m. Admission is $6.
Children 10 and under are free. On Sunday all military ID Card holders receive a food voucher that they can use at any of the food vendors at the show.
For more information, please visit www.carolinahome andgardenshow.com.
Photo: Roy Underhill of The Woodwright's Workshop will be at the Home and Garden Show again this year.