It has been said that while bread may nourish the body, it is the flower that nourishes the soul. But which flower would nourish your soul the most? If you were to ask the members of the Fayetteville Camellia Club, you could probably bet that they'd say...the camellia. March 2 and 3 the FCC will host the 67th Annual Camellia Show at Cape Fear Botanical Garden, where there will be hundreds of blossoms for your viewing pleasure. Last year there were more than 1,000 blooms on display and the number of attendees reached into the 300s.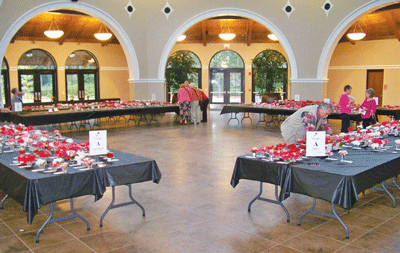 A flower that is native to the Orient, the camellia is a blooming shrub that produces large and small, often double and wonderfully flamboyant flowers. From scarlet reds and pinks to pure whites and yellows, this fl ower is sure to please the eye. Blooming mainly in the fall and winter months, the camellia offers a respite from barren limbs and brown grass and brings with it the promise of spring.
"I have put camellias in pots on my front porch for the winter season. They have shiny, dark green leaves and their winter flowers give a nice contrast to the usual pot of pansies," said Cathy McCamish, the president of the FCC. McCamish is also a Certified Master Gardner with a certifi cate in Ornamental Horticulture.
"The first camellia show I attended left me in awe," McCamish explained. "I thought I would find a few favorite flowers to use in my landscape, only to start a never-ending wish list of camellia varieties."
Whether you're already a seasoned camellia lover or just starting out, there is something for you at the show. Planned are seminars with guest speakers on Saturday and tours of the Mary McLaurin Camellia Garden on both Saturday and Sunday. Admission to the show is free. However, a $6 fee for adults and a $1.50 fee for children will apply to those who want to take the tour as it provides attendees access to the entire 78-acres of the garden. If you're looking to buy a camellia plant, an FCC member can help you choose from a selection of the best quality. They'll even advise you on how to care for them.
"They can live for 50 years or more, with very little care," McCamish said of the plant. "They're attractive even without flowers, and their leaves stay green year-round."
For those of you with green thumbs, you might enjoy entering your own camellia blooms for a chance to be a prize winner. Prizes will be awarded in 30 different categories, including Novice and Best Local Unprotected. If you think your blooms have what it takes, go to the FCC's website (www.fayettevillecamelliaclub.org) and see how to prepare them to enter by clicking on the Camellia Show tab. Contestants must have their blooms to the Orangery, at the far right of the Cape Fear Botanical Garden visitors' center, between 7 a.m. and 10 a.m. Saturday, March 2. Judging will conclude around 12 p.m. and the winning blooms will be marked. The overall winners will be given the honor of being displayed together in their own separate group throughout the show.
"We hope to live up to our mission," McCamish said of the FCC. "To stimulate and extend appreciation of camellias and to encourage and support the science and art of camellia culture."
The show begins March 2 from 12-4 p.m. and continues March 3 from 12-4 p.m. Attendees should go to the Orangery at the Cape Fear Botanical Garden. The garden is located at 536 N. Eastern Blvd. (Route 301), Fayetteville. If you would like to sponsor the Annual Camellia Show or just want more information, go to www.fayettevillecamelliaclub.org or email them at info@fayettevillecamelliaclub.org.
Photo: The Camellia Show is scheduled for March 2, at the Cape Fear Botanical Garden.