Fun Flourishes with Rhythm & Blooms
Concert at Campbellton Landing to Benefit the Cape Fear Botanical Garden
LOCATION CHANGE DUE TO WEATHER: Now indoors at King Party Rental Warehouse (1226 Ramsey Street, Fayetteville, NC 28301)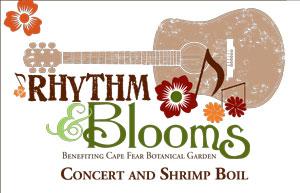 Fayetteville's Campbellton Landing will come to life with a taste of the lowcountry on Nov. 12, as The Blue Dogs will be kickin' back Charleston-style. The first ever Rhythm & Blooms concert and shrimp boil will benefit the Cape Fear Botanical Garden.
Headlining the event is Charleston, S.C., band, The Blue Dogs, whose music is a unique blend of country, roots, bluegrass and Americana, or as lead vocalist Bobby Houck puts it, "a little pinch or this, a little pinch of that."
"We do country rock, we have some elements of blue grass, and we do some funky music," explained Houck when asked about the group's style of music. "We can cover George Jones, the Grateful Dead or The Who. We're pretty spontaneous — it keeps us fresh and keeps things exciting."
Celebrating more than 20 years together as a band, the Blue Dogs primarily tour on the east coast now, but have performed on the same stage with Willie Nelson, Widespread Panic, Bruce Hornsby, Three Doors Down and Little Feat. Their eclectic sound appeals to a variety of musical tastes and creates a show that will delight people of all ages. "We've played many times in Fayetteville, but not in a while. We're looking forward to getting back," added Houck. "The event will be a fun, casual, family event," said Jennifer Sullivan, resource director for the Cape Fear Botanical Garden.
"We're bringing this well known band from the southeast into Fayetteville with the hopes of expanding the Garden's reach. The Blue Dogs have a huge following in larger cities, and we think we'll reach a younger demographic, so more folks will know about the Gardens."
The Rhythm & Blooms evening will feature an informal buffet-style dinner, with a shrimp boil and all the fi xings. There will also be a full cash bar. So why the shrimp boil theme? "Well, this is normally the time of year when people do shrimp boils and oyster roasts, so we decide to keep with the lowcountry theme since the band is from Charleston," explained Sullivan. "It is our intention to make this an annual event that brings the community together and also raises funds for the Garden," said Kensley Edge, vice president of planning and programs for the Garden's board of directors.
"We are very excited to have the participation of both Campbellton Landing and The Blue Dogs for our inaugural Rhythm & Blooms, and we know it will be a great night full of good music and good food." The Cape Fear Botanical Garden is Fayetteville's "front yard." Located on 79 acres nestled between the Cape Fear River and Cross Creek, it is just two miles from downtown Fayetteville. Founded in 1989, the Garden now boasts more than 2,000 varieties of ornamental plants and has several specialty gardens, including Camellia, Daylily and Hosta gardens. The River Walk, Heritage Garden, Children's Garden and PWC Water Wise Garden provide unique educational experiences for young and old alike. In addition to showcasing nature's beauty, the Garden serves in many roles: environmental stewardship, education and research, the preservation of our agricultural heritage, a unique setting for activities and events, a prime attraction for visitors from near and far, and a valuable economic resource for our community.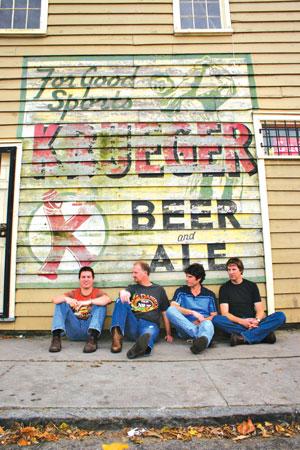 "The Cape Fear Botanical Garden will use proceeds from the concert to support expanded educational programs and the Garden collections, and expanding the gardens," said Sullivan. The Cape Fear Botanical Garden is a 501(c)3 non profi t organization. In keeping with the lowcountry theme, and the connection to nature, the Thursday evening event will be held just down the river at Campbellton Landing on the banks of the Cape Fear River. The setting at the Sol Rose Amphitheatre at Campbellton Landing is perfect for the outdoor, rain or shine, event. But of course, the folks at Cape Fear Botanical Gardens are betting mother nature will be on their side and bring a glorious fall evening.
"We are so pleased to partner with the Botanical Gardens and their fundraiser. With terrific music and food, coupled with the beauty of Campbellton Landing on the river, it will surely be a great event," expressed Kevin Summers, president of Campbellton Landing.
Gates open at 6:30 p.m. with the concert starting at 8 p.m. Tickets are $25 in advance or $30 at the door and include the show and meal. An alternate meal will be available for those with seafood allergies. The evening is sponsored by RBC Bank, Up & Coming Weekly, Fayetteville Observer, Healy Wholesale, Hedgecoe Dentistry, Jim's Pawn Shop, and Valley Auto World BMW.VW. Ticket sales are open to the public. Tickets can be purchased online or at the Cape Fear Botanical Garden. For more information, visit the web site at www. capefearbg.org or call 910-483-4638.
LOCATION CHANGE DUE TO WEATHER: Now indoors at King Party Rental Warehouse (1226 Ramsey Street, Fayetteville, NC 28301)

Gates open at 6:30pm; Concert starts at 8pm
Tickets: $25 in advance; $30 at the door (includes meal and concert)