President-Elect Trump apparently isn't accustomed to having his plane denied landing at a local airport. But that was the case in Fayetteville last week. He mentioned it with some chagrin as he greeted the crowd at his "Thank You Tour" rally at the Crown Coliseum. He told the crowd gathered for the rally the road trip was why he was late arriving. Fayetteville Regional Airport Director Brad Whitted said the instrument landing system (ILS) was not working. He said the FAA was working on the system, but that the inclement weather resulted in minimums below normal for so-called instrument landings. Trump's 747 was diverted to Raleigh-Durham International Airport. He told the crowd gathered for the rally the road trip was why he was late arriving. "As weather improved…he was able to reposition his aircraft to Fayetteville for his departure," Whitted said.
Evans Wins County Leadership Post
Rarely does the election of an organization vice-president upstage that of the president, but the selection this month of Cumberland County Commissioner Charles Evans as board V.P. for the coming year surprised many. Commissioner Glenn Adams was elected chairman by acclamation. Adams, elected from District One, has been on the board of commissioners for two years. Evans has been on the board six years. He was elected countywide … twice but was never before nominated for a top post. Evans was nominated by outgoing Chairman Marshall Faircloth. Commissioner Jimmy Keefe was also nominated, by Commissioner Larry Lancaster. But Evans won the day in a 4-3 vote. If decades of tradition are followed next year, Evans will become chairman of the board.
Public Art Brings Color to Downtown
Those peculiar sculptures you've seen downtown are pieces of art. The public display was formally introduced during a ribbon cutting at the Arts Council Dec. 13. Eleven pieces of public art have been placed around downtown and will remain until October. The artists and artwork are varied. Phil Hathcock's piece "Windstone" made with aluminum, copper and brass echoes the sounds of clacking bamboo when good breezes blow near the Fayetteville Area Transportation & Local History Museum. Other locations include City Hall, The Arts Council and Festival Park. Support for the project has been provided by private donors with matching funding from the Arts Council.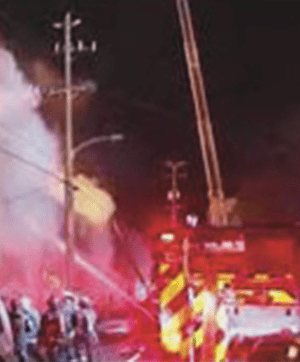 Fire Marshall Addresses Safesty Concerns
At least 36 people have been confirmed dead in the conflagration that gutted a converted warehouse during an Oakland, Calif. dance party. After firefighters put out the blaze, the building was deemed too unsafe for emergency responders to immediately enter. Officials say the roof collapsed onto the second floor and then parts of that collapsed onto the first floor. The City of Oakland had opened an investigation before the fire into the use of the building and now the district attorney has launched a criminal investigation.
In Fayetteville, Fire Marshall Michael Martin noted this city has many older buildings that once were warehouses. Some of them have been re-designed and brought up to code for repurposing. But others remain abandoned and vacant. "Modern building and fire codes require certain safety requirements," said Martin. "A building housing a warehouse would have different code requirements than a large space designed to accommodate hundreds of people," he added. Martin noted that North Carolina's fire code was adopted only after the 1991 Hamlet, N.C., chicken processing plant fire. Twenty-five employees died and 55 were injured in the fire. The Fayetteville Fire Department urges property owners and event managers to ensure their buildings are code compliant and properly permitted for specific uses before hosting large parties and concerts.
Park Smart While Shopping
The Fayetteville Police Department reminds shoppers to "Park Smart" this holiday shopping season. They say most thefts from motor vehicles occur because they're left unlocked. "It is important to turn off your vehicle, take your keys, lock your vehicle, remove valuables, including firearms and do not leave anything of value in plain sight," said Officer Shawn Strepay in a news release. He said thieves tend to watch motorists in parking lots to take advantage of those who are careless. Police suggest that if you place recently purchased items in the trunk of your car, it's a good idea to move the car to another area just in case you're being watched. Be alert and report suspicious activity by calling 911. If you're leaving town for the holiday, register with the police for a house check on the FayPD.com website. Officers who patrol your neighborhood will conduct security checks while you're away.
DOT Celebrates Widening of Murchison Road
City of Fayetteville, Town of Spring Lake and Fort Bragg officials were joined by those of the of the State Department of Transportation Friday to cut the ribbon on the newly-installed section of Murchison Road between Spring Lake and Fayetteville. The highway was widened to six lanes from the Fayetteville Outer Loop to north of N.C. 24/87/210 in Spring Lake. The stretch from the Outer Loop to Honeycutt Road is already complete, and the section from Honeycutt Road to north of N.C. 24/87/210 is nearing completion. The work on this $32.3 million project began three years ago. Completion is scheduled for the end of this month. The widening of Murchison Road was necessary to support the closure of Bragg Boulevard through Fort Bragg. The boulevard closed to northbound traffic in August and all traffic in September. It was funded jointly through NCDOT and the Department of Defense (Defense Access Road Program). This work coincides with the completion of several key sections of the Fayetteville Outer Loop.