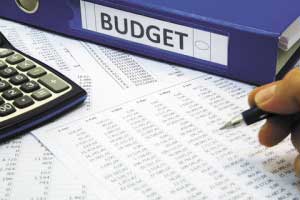 Cumberland County Manager Amy Cannon said County government faces a potential $27 million funding gap in Fiscal Year 2018. But is it really a deficit?
$18 million of that is new money not now in the County budget. Some of it represents budget increases requested by departmental managers.
A big chunk of the gap, $9.7 million, is in revenue losses resulting from the unprecedented reduction in ad valorem property values. The information provided county commissioners "was a snapshot of strategies under consideration … the budget division and management are still developing options for balancing the budget," Cannon said. The current tax rate is 74 cents per $100 of property valuation. To achieve revenue neutrality, Cannon told county commissioners they would have to raise the property tax rate to 78.4 cents. Any increase would hurt homeowners whose property increased in value, but would offset losses in reduced home values while not increasing the actual tax burden. "We have to balance this budget and it is going to be challenging. This is not a short-term fix," Cannon said.
There will have to be some cuts in County operations, and as many as 66 employees could lose their jobs. Attrition would likely reduce the payroll some. Cannon has instructed budget staff and department heads to focus on reducing non-mandated services. A pay raise for employees is likely out of the question and Cannon proposes to scratch the county's 401K contribution for employees. Mandated services are those functions of all county governments in North Carolina established by the state constitution like schools, mental health services, social welfare, public health, court facilities and jail, along with funding for the sheriff's office and other county agencies.
Many other activities the County supports are considered quality of life expenses; the niceties that separate some communities from others, like animal control, public libraries, domestic violence protection and support of non-profit community groups like the Child Advocacy Center and Contact of Fayetteville. Contact is a 24-hour crisis intervention telephone hotline which has been in existence for nearly fifty years. It receives a little less than $7,000 annually from the County, but that represents 14-percent of its modest budget. These so-called outside agencies would see reductions in their budgets. Some would lose all funding from the County. "The majority of services the County provides are human services. (They) are essential and mandated, and have to be provided," said County Commission Chairman Glenn Adams. He didn't speak to quality of life issues.
Cannon made her presentation to commissioners for information only. She'll make her formal budget proposal later this month. It could include closing one of the County's public libraries and reducing hours of operation at three others. "I am sorry that libraries are not considered a mandated service, and wish that we all had a different understanding of the value of libraries in the community," said Library Director Jody Risacher. Talk of closing a library concerns her. "I can't tell you which branch, and don't wish to speculate. My sense is that everything is on the table," she added. Cannon insists her outline is just a suggestion, but it isn't the first time the administration has proposed closing the Domestic Violence Care Center and Shelter. Twice before, as far back as 1999, the shelter for abused women came close to being eliminated. Up & Coming Weekly asked Social Services Director Brenda Jackson if she would fight to keep the agency open. "In order to realize any County savings, DSS must explore non-mandated services due to the lack of state, federal and grant funding sufficient to provide this program," she responded.
Cannon also suggested closing two public health clinics and consolidating a pair of group homes. She said she has already cut increased departmental requests by $3 million and has instructed department heads to submit three levels of additional incremental reductions. They are to include operational and staff cuts. Cannon will present her recommended budget at 7 p.m. on May 25.