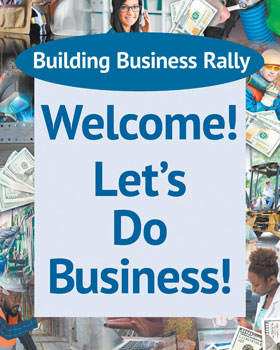 As a business owner, is there any better way to kick off the new year, than growing your business? Local government wants to help do just that, and the Cumberland County Mayor's Coalition has proclaimed January as "Building Local Business Month." Over the last few years, our local elected officials have increased their efforts to have more funding spent locally on the wide range of services, supplies and equipment purchased by local government.

They have worked together to reach out to local businesses with that united message. And as part of the initiative, the fourth annual Building Business Rally will be held Thursday, Jan. 30, 2020, at the Ramada Plaza from 2-6 p.m. for local businesses to learn about those opportunities.

The event features purchasing and procurement representatives for Cumberland and Fayetteville's largest buyers. Each ha small business needs and offers opportunities for local vendors — suppliers, professional service providers and prime and subcontractors of all sizes. The event's goal is to educate and engage local businesses on how to do business with their organizations and the types of goods and services that are needed.

The Building Business Rally is a unique opportunity, as Its a one-stop-shop for local businesses. One might equate it to attending a job fair, only here you are connecting your business to organizations that have money to spend and are looking for local businesses to spend it with.

Organizations participating in the Building Business Rally include Cape Fear Valley Hospital System, Cumberland County, Cumberland County Schools, the city of Fayetteville — including FAST and Community Development, Fayetteville State University, Fayetteville Technical Community College, the town of Hope Mills, the town of Spring Lake, North Carolina Department of Transportation, Prince Charles Holdings, PWC and Vector Fleet Maintenance that manages the city of Fayetteville Fleet.

This year's event utilizes the local business resources of the Greater Fayetteville Chamber, the Small Business and Technology Development Center and Cumberland County NC Works to help businesses find opportunities, structure their business for success and find a qualified workforce.

To help businesses take full advantage of the opportunities presented by the event, organizers scheduled a series of Building Business Rally Workshops before the Jan. 30 event. Presented by the SBTC, topics of the two remaining workshops include information that can help businesses get results when attending the Building Business Rally.

A Jan. 9 workshop will focus on capability statements that are essential when discussing opportunities with government agencies as they are a concise way to communicate what your business can provide for a government agency.
On Jan. 23, the series concludes with a workshop that will help answer questions such as how, what and where to go to find business support programs specific to government contracting. The workshops will be held at the PWC Administrative Offices on 955 Old Wilmington Rd. at 6 p.m. The Building Business Rally is scheduled for Jan. 30 from 2-6 p.m. at the Ramada Plaza on Owen Dr.

All events are free. Business owners can get more details about participating purchasing agencies they will meet and market their business to, register for the events and find local contracting opportunities at www.faybids.com.