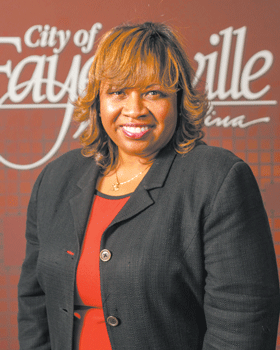 The city of Fayetteville isn't always able to match county government's employee wage structure. City police officers are paid less than sheriff's deputies, something Police Chief Gina Hawkins says she has been working with City Manager Doug Hewett to correct.
Assistant Fayetteville City Manager Angel Wright-Lanier surprised some in city hall when she recently announced she is going across town for a similar job with county government Jan. 1. Cumberland County Manager Amy Cannon is hiring Wright-Lanier an assistant manager filling a vacancy created by a recent retirement.
Wright-Lanier is receiving a nice pay raise. Official records indicate she will earn an annual starting salary of $162,000 compared to $155,500 that she is being paid by the city.
"I look forward to the new role and continuing to develop as a leader, while still serving this community," Wright-Lanier said. She has a bachelors degree, two masters and is studying for a doctorate in education from Vanderbilt University.
Wright-Lanier is the second senior administrator to leave city government this year. Long time Deputy Manager Kristoff Bauer resigned in July.
Pictured: Angel Wright-Lanier