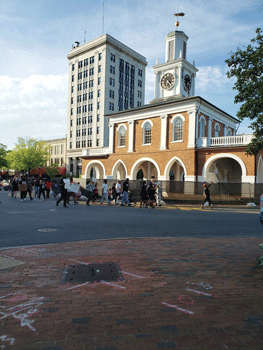 On April 16, about 50 protestors walked around the Market House chanting "no justice, no peace, no racist police," and "hands up, don't shoot." Protesters carried signs and recited the names of Black people killed by police. The event, planned before the City Council voted Thursday to repurpose the Market House, seemed to galvanize the downtown landmark as a hub to assemble and air grievances about continued discrimination against people of color.
The protest had little to do with the historic landmark itself, but rather recognized the Market House as evidence of what organizers call a lack of action by Fayetteville city leaders.
Friday's protest was in response to the most recent death of a Black man — Duante Wright — in police custody, but one organizer said it was also to point out that local leaders have either not accomplished much in the last year, or have not been transparent with the public about what they've done since last May when rioters rallied at the Market House before damaging store fronts downtown and in the Cross Creek Mall area following the death of George Floyd.
"A year later and nothing has been done," said Bishop McNeill, one of the organizers for the protest. He said continued protests are planned for every Friday through May. McNeill said he and like-minded citizens will gather at the corner of Hay and Green Streets at 6 p.m. to "bring awareness about needed police reforms that were promised by our officials."
McNeill called for city officials to make public what police reforms have been enacted since
last year.
"If something like that happens here, we want to make sure police officers are held accountable," McNeill said referencing the deaths of George Floyd and Duante Wright.
Protesters are calling for city officials to present information to the public about any on-going efforts in police reform and the formation and progress of a Citizens Review Board. In early March, City Council voted to give a CRB the power to look into police personnel records when reviewing disciplinary cases. Few details have been released on a CRB or on the differences in authority between a review board and an advisory board.
Citizens want officials to make those details known, McNeill said. His comments echo a growing concern that city leaders are either acting too slowly or are not proactively informing the public of what actions are being taken.
Up & Coming Weekly reached out to Fayetteville Mayor Mitch Colvin following Friday's protest, asking for comment on McNeill's call for transparency. Colvin's emailed response is printed in full on page 10 of this issue.
McNeill said these Friday "marches for social justice" will address "police reform, Black and brown issues, immigration and Asian discrimination." He hopes the events will gain public and media attention to ask city leaders "where are we at?" on reform, and on combatting racism and discrimination.
Speakers will be planned for the events, but there will also be opportunities for citizens to address the crowd, as was the case with the April 16 event. One woman participating in the march asked for the loudspeaker and told the crowd that "racism is systemic, but we have to be introspective … what are you doing at your house… to grow, learn and be better?"
At least two participants were openly carrying firearms.
A man who identified himself only as "Rell" was carrying the civilian version of the M4 rifle used by many U.S. Army soldiers in combat. Without alteration, the civilian version is capable of only one round per trigger squeeze, not three-round-bursts or fully auto like the military version. Rell was also carrying a pistol.
Rell said he was "not here to impose fear on anyone" but to make sure nobody broke windows, vandalized and blamed it on protestors.
"It's our Constitutional right to bear arms," Rell said. "I'm trained on it, and I also have a concealed carry [license]." Rell said he was a military veteran.
"The police have a lot going on," he said. "We are here to police up our own so it can be a peaceful demonstration."
The April 16 event was peaceful, as most protests in Fayetteville have been, McNeill said.
"I don't want people to be afraid, there's a lot of fear-mongering … meant to further divide us," he said. McNeill said he understands that many people are concerned about a protest turning into a riot.
"If you do not want to participate in a demonstration, contact city officials and ask them where they stand, ask them to make a statement," he said.
At least one local business owner came out to speak with McNeill. "Protests are good as long as they are peaceful," said Hank Parfitt, owner of a shop on Hay Street. "You should be able to protest."
Others not directly participating in the event showed support with shouts of encouragement to speakers and honking car horns as they drove around the Market House.
EDITOR'S UPDATE:
Fayetteville Police Chief Gina V. Hawkins provided the following statement via email, which arrived after the April 21, 2021 issue of Up & Coming Weekly went to press.
"The Fayetteville Police Department maintains the Gold Standard CALEA (Commission on Accreditation for Law Enforcement Agencies) accreditation. This is a very strenuous process to become accredited, and it holds agencies to a very high standard (and it is also voluntary).
Our policy and procedure manual is open to the public and is viewable at any time on our website. You can see that our policies and procedures go above what was being requested over the past year. I must note however, the duty to intervene was being taught in our academy/training center, but was added as a written policy last year. Our department continues to attend annual biased based policing and de-escalation training.
Some of the other demands being sought must be approved through proper legislation, such as Citizen Review Board; which is currently pending in the legislative process. Our Mayor and City Council continue to work on this aspect as demonstrated by passing a Council Resolution that included support for a citizen review board on June 22, 2020. This is a process that takes proper research, planning, and discussions.
Mayor Colvin has established two separate City Council Committees last summer to internally examine our City organization as it relates to diversity, equity, and inclusion principles and efforts to determine if obstacles to opportunities exist; and externally to identify areas that will improve the equitable opportunity for all residents to succeed - regardless of their race, color, sex, nationality, sexual orientation, religion, disability, income or zip code as well as engage the residents in dialogue about local issues.
During the March 1, 2021 work session, a motion was passed to formally establish a citizen advisory board (separate entity from the Citizen Review Board that is pending proper legislation). The Council has directed staff to stand up the board in 4 months by July 1st.
As you can see, much work has been going on in by both the Police Department and our City Council leaders. As a reminder all of our policies and procedures can be found on our website: faypd.com."