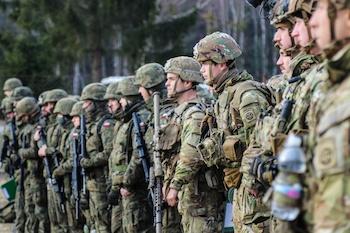 Secretary of Defense Lloyd J. Austin III ordered 500 more U.S. service members to be deployed. 300 of those troops will come from Fort Bragg.
The troops from Fort Bragg will form a modular ammunition ordnance company, according to Pentagon spokesperson John Kirby. They will be heading to Germany to provide additional logistic support to the 1st Armored Brigade Combat Team, 3rd Infantry Division already on the ground.
Kirby said the movement is temporary and the added personnel are being positioned "to help reinforce and bolster deterrence and defense capabilities of the NATO alliance."
"[We're] going to adjust our posture continuously as the conditions require. And as has noted before, we are not and will not send forces into Ukraine," Kirby said.
Additional service members will also be coming from Fort Stewart, Georgia.
---
Photo Credit: U.S. Army Paratroopers assigned to the 3rd Brigade Combat, 82nd Airborne Division prepare to train with their Polish Allies at a sniper range in Nowa Deba, Poland, March 3, 2022. The 82nd Airborne Division, based at Fort Bragg, N.C., has been deployed to Poland as part of the strong and unremitting commitment to our NATO Allies and to deter aggression. (Photo by Sgt. Catessa Palone)