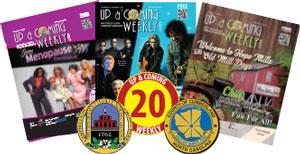 This past Monday Fayetteville Mayor Nat Robertson and the City Council bestowed on our newspaper one of the greatest honors to date. They recognized Up & Coming Weekly with an official proclamation observing our 20th anniversary and the achievements, contributions and impact Up & Coming Weekly has had on the Fayetteville/Fort Bragg community.
Surrounded by friends, staff and family, I must admit it was overwhelming. Two decades. Believe me, no company succeeds without a steadfast mission and a passionate, loyal, dedicated and hardworking staff that consistently produces a quality and relevant product. I am extremely grateful to have all of these components at my disposal.But, truth be known, our undaunted success comes from focusing on, promoting, accentuating and illuminating the quality of life we experience here in Fayetteville. I'm talking about the news, views, art and entertainment and everything else that affects our residents and defines the quality of life in our community. We have stayed true to our mission by supporting and investing in Cumberland County education, healthcare, the cultural arts and local businesses and organizations that also want to elevate our community to the outside world.
As daily newspapers continue to decline in readership and relevance, community newspapers like Up & Coming Weekly continue to grow and prosper. Actually, we are an effective local print media essential for advertising, marketing and branding local businesses and services. We are Fayetteville, Fort Bragg and Cumberland County's first social media. Really! "Nothing to do in Fayetteville," really?
We will put our weekly newspaper up against any smartphone, iPad, computer or electronic social media out there for the latest and greatest information on what is going on in this community. This is what we do.
So, on behalf of our staff, contributing writers, advertisers and community partners, all of whom contribute to our newspaper to define our personality, I say, thank you.
Thank you for allowing us to be not only an integral part of the community, but also for allowing us to grow and prosper doing what we love... promoting and showcasing the Fayetteville community.
Thank you for reading Up & Coming Weekly.