Wow! The celebration of the first year anniversary of LocksCreek Seafood Grill and Campbellton Landing brought mixed emotions for Kevin Summers, the owner and general manager. No doubt, he'll never forget this one.
Last week Summers dodged the ruthless execution of his entrepreneurial dream development on the banks of the Cape Fear River. North Carolina's tax police, whose sole purpose in their bureaucratic life must be to shutter upstart, struggling businesses, put their mark on LocksCreek in a resounding way — they locked the front doors.
This isn't an uncommon occurrence, as small businesses, trying to make their mark in the community and contribute to the economy, often falter in their first year of operation. Sure, it's the job of the North Carolina Tax Office to collect taxes due, and no doubt they have the authority. However, where's the logic? You would think in this dismal economy, choking recession and with the state's unemployment numbers closing in on the 10 percent range, they would apply the same logic to their responsibilities as the thousands of small, humble businesses and organizations that are trying to survive.
Everyone, and I repeat everyone, I know in business throughout the country is just trying to survive and keep their doors open. They are trying to "wait it out." Surely, as in the case of LocksCreek, rushing in and padlocking a viable but struggling venue while putting 40 to 50 people out of work makes logical sense only to a government that is ridiculous, dishonest and "out of control."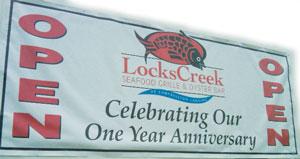 That being said, our entrepreneurial hat's off to Summers and his small group of local investors (of which I am one) for their vision, perseverance and dedication to create something wonderful for this community by keeping alive Sol Rose's vision for the development of Campbellton Landing as a historic, fun, family destination.
Note: Summers isn't the only person with vision taking risk, spending money and investing in our community. Take a look around.
Look at the new owners of the Village Coffee Shop, the new location of the Southern Gourmet on Grove Street, Blue Moon Café, Huske Hardware, Circa 1800 and the Fresh Cafe — all locally owned downtown businesses. There is also Morgan's Chop House on Morganton Road and the northside's newest venue, ScrubOaks on Ramsey Street. These are just a few examples of restaurants whose owners dared to risk their life savings and financial resources to raise the quality-of -life here in Fayetteville. There are hundreds of other small businesses aggressively doing their part to stimulate our local economy and get it back on track.
Unlike local bankers and other self-proclaimed financial geniuses whose arrogance and incompetent business practices contributed to this economic mess, local entrepreneurs are up front and out front working hard to pay the taxes of those who only want to shut them down or subsidize their "bailout."
Well, it's a strange world we live in, but thank God there are still many Americans who honor old-fashioned values and work ethic. Entrepreneurs are a tough bunch. So, hang in there, Kevin. Campbellton Landing is a wonderful historic asset to this community. Remember, bureaucrats may be able to shut us down, but they will never be able to shut us out. Seldom has doing the right thing, for the right reason not prevailed.
Up & Coming Weekly is your community newspaper and I would love to hear from you. Email me at bbowman@upandcomingweekly.com or call me at 910 391 3859. Your insights are important to us. You may also subscribe to our online edition absolutely "free" and receive our VIP Early edition. Hope to hear from you soon. Thanks for reading Up & Coming Weekly.