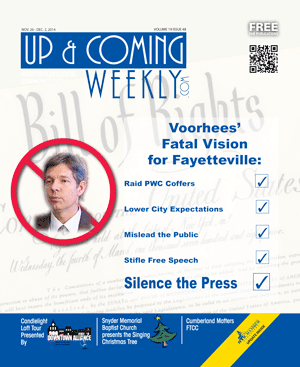 On Monday, Nov. 10, Up & Coming Weekly filed an open records request with the City of Fayetteville. The request came following a decision by the city's top administrator, City Manager Ted Voorhees, to cease all advertising, partnerships and sponsorships in connection with the community newspaper on Nov. 5 as a result of a less than favorable editorial written by Up & Coming Weekly Publisher Bill Bowman on Oct. 22.

In the open records request, Up & Coming Weekly asked the following: "Pursuant to the N.C. Public Records Act, I am requesting copies of all city communications whether electronic or hard copy, and all texts referencing Up & Coming Weekly from Sept. 1, 2014 to Nov. 10, 2014. This request includes all communications between not only city staff but also the city council."

The North Carolina Public Records Act and Open Meetings Law is monitored and enforced by the North Carolina Attorney General's Office, which along with the North Carolina Press Association, works to ensure that government activities and operations are open. In a guide created in partnership between the attorney general's office and the NCPA, North Carolina Attorney General Roy Cooper wrote, "The spirit in which public officials work to comply with the law is as important as the law itself. Recognizing that the public's business should be done in the open and honoring requests for help serves the people as well as those who seek to inform them."

He further noted, "In other words, when in doubt about how to interpret the state's open records and meetings laws — (the government should) always work to resolve the question in favor of openness."

According to the N.C. Public Records Law, public records are documentary materials made or received by government agencies in North Carolina in carrying on public business. Public records include materials written or created by the government and its employees. Public records include paper and electronic documents, emails, papers, letters, maps, books, photographs, films, sound recordings, magnetic or other tapes, electronic data-processing records, artifacts or other documentary material, regardless of physical form
or characteristics.

If an agency fails to release or disclose public records, the requestor, in this case, Up & Coming Weekly, can bring a civil action in court against the government agency or official who denied access. North Carolina courts are charged to set public record complaints for immediate hearings and give these cases priority over other cases. If the court finds that an agency or individual was denied access without substantial justification, the agency must pay all court and attorney fees and release the documents.

In the case of the public records request by Up & Coming Weekly to the city, a review of documents released by city staff found that several key city officials failed to respond to the request and among those who did, several failed to disclose or release a full record of communications concerning Up & Coming Weekly.

Key officials who failed to disclose all pertinent records include:
• City Manager Ted Voorhees
• Deputy City Manager Rochelle Small-Toney
• Corporate Communications Director Tracie Davis
• City Attorney Karen McDonald
• Storm Water Manager Greg Caison

Bowman has long been a staunch supporter of the City of Fayetteville. He is "surprised and perplexed" by Voorhees' actions, which he views as "retaliatory and inhibiting" his paper's ability to cover the city as Voorhees ordered that the community newspaper was to be given "no more information" and is indignant at the city's blatant disregard for the Open Records Law.
"As a North Carolina community newspaper publisher and ardent advocate of the 4th Estate and the 1st Amendment, I take the Open Records and Open Meetings laws very seriously," said Bowman. "Transparency in government is critical to good governance. Having served on the board of the North Carolina Press Association and as past president of the NCPA Community Newspaper Association, I know how important the 'Sunshine Laws' are — not only in pursuit of good governance but also in pursuit of keeping the citizens informed and keeping government actions above board.
"Over the past 20 years of operating Up & Coming Weekly, I have never found myself in a position where a local government has demonstrated a total lack of regard for not only the Open Records Law, but also for the 1st Amendment and its prohibition of government infringement of the press, which ultimately translates into a lack of regard and respect for the citizens they govern."
Bowman, who is known for his commentaries, said he was shocked at what he considers "rash, emotional and unprofessional" decision making by Voorhees in retaliation to the commentary concerning the ongoing court action between the Public Works Commission and the City of Fayetteville..

"No doubt it was a knee-jerk reaction on Voorhees' part. The text he dashed off to city staff confirms that it was an emotional and not well thought out decision," said Bowman.

The text Bowman references is the only communication Voorhees reported in response to the public records request. Voorhees sent the following email to Corporate Communications Director Tracie Davis, whose office is charged with answering public records requests.

"Tracie: I didn't spend much time on the Up and Coming issue. I went through email and text messages and here is all I found. It is a text message from me to Kenneth Maynard on Friday, Oct 24 at 4:28 p.m.:

"No more info and ads for Up and Coming and Kidsville. We are done with them. I've shared with Tracie already."
The text to Maynard was sent from Voorhees' iPhone.

Voorhees' statement that he had no other communications concerning Up & Coming Weekly were negated in an email forwarded to the Public Information Office from Rusty Thompson, the director of the city's Engineering and Infrastructure Department. In disclosing his communications,
Thompson included a text from Voorhees: "Please stop providing any ads or information to Up and Coming and Kidsville News."

Thompson, in turn, forwarded the text to Caison, who in his email to the Public Information Office said he had no communications concerning Up & Coming Weekly at all, even though he not only communicated back to Thompson with the following: "Really ... Ok! We are already confirmed for the November issue of Kidsville and doubt we can pull out of that one? We stopped up-and-coming 2 or 3 years ago."

Caison was further copied by members of his staff on several emails concerning Up & Coming Weekly, including communications from Up & Coming Weekly zeroing out the agency's accounts. Voorhees, like Caison, was also copied on a number of emails, which he did not disclose.
"In my 20 years of working with and advocating for the City of Fayetteville, I have never experienced this kind of total disregard and disrespect of the law, which has put us in our first adversarial position with the city I love," said Bowman. "I built my newspaper and publishing business on promoting Fayetteville and showcasing its quality of life. This is very disappointing and difficult for me. This is not a place I personally ever wanted to be and never thought I would find myself or my newspaper."

In an interview with Fayetteville Mayor Nat Robertson, Up & Coming Weekly attempted to bring some openness to not only Voorhees' retaliatory actions, but also address the failure of some members of the city staff to obey the law in regards to the open records request.
When asked whether the council had been read in to Voorhees' intent to put prohibitions on information and advertising on Up & Coming Weekly prior to the staff being informed by Voorhees, Robertson said that neither he nor the council had been informed or read in to the actions.

When he questioned Voorhees about the action during the city council's working meeting on Nov. 10, Voorhees indicated that he felt that Up & Coming Weekly had a negative slant and "wasn't something that he felt the city should be involved with." For his part, Robertson said that he does not see Up & Coming Weekly as negative to the city. Robertson acknowledged the partnership Up & Coming Weekly has had with the city over the past six years, providing the City of Fayetteville more than $300,000 in free editorial space to ensure residents know what is happening in the city. He noted that in a time of constrained resources, Voorhees' decision was not wise.

Also during the city council work meeting, Voorhees noted that while the corporate communications staff had not done any research yet on effectiveness of communications through Up & Coming Weekly, they would. In response to a public records request by the Fayetteville Observer, Davis told staff writer Andrew Barksdale that there was an ongoing media review. When queried about said ongoing review of media, Mayor Robertson said that to his knowledge no media review was occurring or had been asked for by the council.

When queried about the open records law, Robertson said that failure by staff to openly and honestly respond to requests should result in termination.
Voorhees was contacted and asked the following questions:

1. Was the decision to pull all information from Up & Coming Weekly based on what you believe to be a negative editorial slant/vice a systemic review of all media sources?

2. Other than the commentary by Bill Bowman on Oct. 22, what other articles about the city have shown the negative editorial slant that you believe is pervasive in the newspaper?

3. What is your reaction to the following: In the first six months of 2014, there were 77 articles in Up & Coming Weekly talking about the City of Fayetteville. Only one article was negative, and that was about the city council and was in support of city staff. Would you consider that a negative editorial slant? And if you believe there is one, please give me a list of articles.

4. Did you consult with any local citizens or your department heads before texting a missive to them to cancel everything in Up & Coming because you are "done with them?" Do you think this was professional?

5. In your words, please define what you view as a government's infringement on the press.

6. In a public meeting you told the city council that your staff didn't see the value in Up & Coming Weekly. If that is the case, why were they upset about the cancellation notice?

7. If money and resources are tight, why would you give up more than $50,000 annually in free print and online space? Does this seem like good stewardship of the city's resources?

8. Are you aware that it is against the law to fail to disclose all information requested in a public records request? And if so, why did you fail to do so?

In a written response, Voorhees failed to answer the questions and instead referred all queries to Davis.

Davis was also sent a series of questions, which included the following:

1. On Monday, Nov. 10, in the public meeting, Mr. Voorhees said that you and your staff did not feel like the sections in Up & Coming Weekly were meeting your needs and that you were doing a review of media partnerships. What led you to believe that the sections were not informing the public? Do you have specific examples or complaints from citizens or staff about the sections? And what sort of review did you conduct to determine that they were not a good fit? And what in your previous experience qualifies you to make that judgment?

2. Andrew Barksdale, of the Fayetteville Observer, asked you about the situation with Up & Coming Weekly in a public records request. Your written response to him noted: "The city has a limited advertising budget and is in the middle of revamping our marketing strategy. This also limits promotional items and other advertising that we purchase. We are researching multiple options with our budget to best maximize the city's branding and leverage potential reach to our citizens across multiple mediums for the balance of the current and upcoming fiscal year."
* If this is the case, what other media outlets were involved in your review?
* What were you looking for and at?
* What was your standard for judging effectiveness?
* What other media relationships/contracts did you cancel?
* Further, if your office was in fact conducting a review, why would two of your staffers exchange a text asking. "What was going on with Bill Bowman and Up & Coming?" with the response being, "He, (Bill Bowman) trash talked Ted and the city and not giving fair and balanced reporting on the PWC issue." Response from another member of your staff: "Figured it was something like that?"
* On the record, did you in fact conduct an official review (and if so, please provide the data and other media involved) and if not, were decisions based on a perception of a "negative editorial slant?"

3. If the city's advertising budget is tight and you are looking to talk to citizens across a multiple of mediums, why would you give up two pages of free editorial space in a printed publication and an online presence?

4. Mr. Voorhees also indicated in the public meeting that department heads were not satisfied with Up & Coming Weekly. If that was the case, why did city employee Jami McLaughlin say she was "shell shocked" and continue to ask to keep her column? To which you replied, "I understand..." (McLaughlin's request was approved following undisclosed communications between Voorhees, Toney-Small and Davis). And specifically, in regards to Storm Water, Mr. Caison showed utter surprise at being told to cancel his program. Were department heads unhappy?

5. On Oct. 30, following your letter to Stephanie Crider (Up & Coming Weekly's editor), I (Janice Burton, associate publisher, Up & Coming Weekly) sent you an email basically asking you many of the same questions above. You did not respond.
* Why did you fail to respond to a media query?
* Why didn't you include my email to you in the response to the public information request?

6. Are you and the city staff aware that failure to fully disclose information asked for in a public records request is against the law? And are you aware that there are many correspondences between city employees regarding Up & Coming Weekly that I have record of that were not disclosed by your office?
In a written response that was to cover all questions asked to Voorhees and herself, Davis responded:

"In regards to your questions to Mr. Voorhees and myself concerning abridging the freedom of the press, in no way has staff with the City of Fayetteville limited the press' ability to report on the city. In addition, staff has gone above and beyond the requirements of law to meet your public records request and we will continue to do so. Up and Coming Weekly has the same access as other members of the public and the media to attend meetings, receive press releases via email, access information via the website and make public records requests. Furthermore, Up and Coming Weekly is welcome to have their publication out for distribution at City Hall.

"We continue to partner with Up and Coming Weekly in producing the Downtown Developments section. In regards to our decision to no longer devote staff time to producing FOCUS On Fayetteville, it is our choice how we delegate our resources to best meet the needs of the city, citizens and city departments.

"I am happy to meet with you to discuss how we can (move) forward. We can also discuss future advertising opportunities with Up and Coming Weekly."

"If you look at all of these responses and lack of responses, there appears to be an element of untruth that runs through them," said Crider. "That's one of the reasons that the Open Records Law is so important — so that there is transparency in government and that the 'sunshine' of open records keeps government and its administrators honest and above board. I am, quite frankly, disappointed in what has happened and what we have seen as dishonesty in our city administration."

Bowman and his staff are in the process of filing a civil complaint with the courts concerning the obvious disregard of the Open Records Law by the city, a position that Bowman regrets, but feels necessary in the best interest of the Fayetteville community.

"I have always had the utmost respect for our city and its leaders. To be in this situation at a time when Fayetteville is collectively working hard to enhance its image and reputation and solidify its brand is extremely unfortunate," he continued. "The lack of leadership is sad and frustrating. I firmly believe there is much talent, integrity and goodness in the city administration. Unfortunately, at this point, we feel Up & Coming Weekly must take a stand for open, responsible, professional and honest governance. We must also take a stand for the residents of Fayetteville and Cumberland County that we have faithfully served for nearly 20 years. "