It's said in comedy, timing is everything. It's also important in the restaurant business, and Glenn Garner has run into a challenging timing problem in Hope Mills as he tries to relocate his popular downtown eatery, The Diner, to a more spacious location.

For the last three months, Garner, who goes by the professional name of Chef Glenn, has been looking to move his South Main Street business in the old Becky's Cafe to the recently-vacated Buckhead Steakhouse on Camden Road.

Garner plans to keep the old location, closing it temporarily once he completes the move to the new location and later reopening it with a different theme.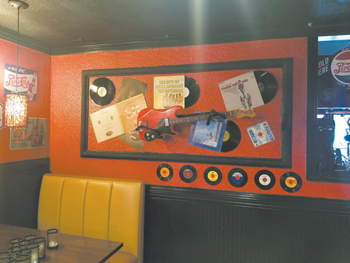 But the arrival of COVID-19 and all the headaches it has created has slowed his plans for getting things started at the new home of The Diner.

"We are still pushing for that April 6 date,'' he said, referring to when he had originally planned to roll out his new business location. As of the writing of this article, North Carolina restaurants were shuttered by order of the governor save for takeout business.

Garner, who operates two food trucks through his other business, A Catered Affair, has both trucks currently in operation, one at the original location of The Diner and the other at the new location. The kitchen at the original location is also open for takeout orders only.

Garner said it's looking more and more like the planned April 6 opening won't take place, so he'll continue with the takeout options via the food trucks and the kitchen at the Main Street business. He won't start takeout at the new location, preferring to roll out the new business with its 1950s decor, only when he can open to regular customers.
The main reason he decided to relocate The Diner was to grow the business, he said. The old building had room for only 32 customers. At the new location, he's got 200 seats and will have ABC permits that allow him to stay open as late as 10 or 11 p.m. and serve a full line of adult beverages.

While the current location of The Diner emphasizes what Garner calls Southern comfort food, the menu at the new place will be expanded.

"I can do steak,'' he said. "I can do pasta dishes. I can do French-style cooking, a lot of sauces, upscale dining at a fair price.''

Like many small, local businesses, the current pandemic is hurting him and his small staff of employees in the pocketbook. "I've got employees that need to work and they've got families they need to feed,'' Garner said.
That's why he's cranked up the food trucks to daily business for now. He's open from 11 a.m. until 8 p.m. at both his locations, but he'll stay as late as he's got customers. At the Camden Road location they recently were still serving as late as 9 p.m. he said.

"I love the community and I appreciate everything they've done to support me and help me get to this point,'' he said. "I hope they continue to support me.''