Details

Monday, 02 December 2019
Written by Natalie Abernathy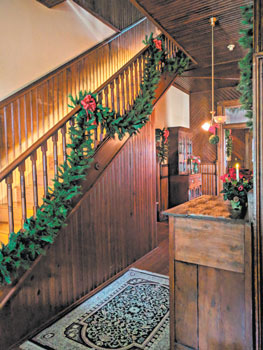 The nights are getting longer, and the air is turning colder as the winter season settles upon Fayetteville. The festive season is the air and many families want to go to memorable events with their children. As the holidays approach, Fayetteville organizations are preparing many events to celebrate the Christmas season, including the ever-popular Annual Holiday Jubilee at the 1897 Poe House. The 1897 Poe House will host this event for everyone Dec. 8 from 1-5 p.m. This event is free of charge — so everyone in the family can come.

The Poe House will be covered in beautiful traditional Christmas decorations of the Victorian era. The event will include a multitude of Christmas-related things to do that will entertain everyone in the family.

Megan Maxwell, the Poe House coordinator, is in her eighth year of being in charge of this event. She noted that "It's geared for all ages. We have a caroling concert on the front porch. The adults really love (it), the kids (do) as well. We have Santa for the younger kids to visit. It's really for all ages."

Two groups will perform the carols — the Coventry Carolers and Cross Creek Chordsmen. The Coventry Carolers are an acapella group. They will sing more traditional Christmas songs. Maxwell said, "They perform pretty much every year we have the event. The people really enjoy them. They kind of do the Victorian-era Christmas carols." They will perform at Holiday Jubilee at 1:30 p.m., 2:30 p.m., and 3:30 p.m., showing off their vocal talents.

They will be followed by Cross Creek Chordsmen. Maxwell described the Chordsmen as, "Our local barbershop chorus," adding that "they do some modern tunes, too." The Cross Creek Chordsmen will perform at 2 p.m. and 4 p.m.

Maxwell said that both acts, "Will make for a very festive event."

After listening to the lovely voices of the performers, tour the magnificent Poe House. You can tour the house with interpreters in each room to tell you about the history of the house and help guide you into that festive spirit of an era long passed. The kitchen will be open and using its wood-burning 1902 stove to serve free cookies and cider for attendees. "It's a great opportunity to view the house," Maxwell
said about the Holiday Jubilee. "The house is beautiful year-round, but with the Christmas decorations up, it just makes it all the more spectacular."
Also, Santa and Mrs. Claus will be at the house, so that the family can get a picture of Santa and have their little children tell Santa what they want for Christmas. "We don't charge for pictures," said Maxwell. "Parents are allowed to come and take their own pictures on their phone. It's a free opportunity to get your Santa pictures."

The Holiday Jubilee has had a professional Santa for four years now, so it will provide a great photo opportunity for the kids — or for the entire family. Maxwell noted that it is a great way to end a visit to the Holiday Jubilee.

Holiday Jubilee will Dec. 8 from 1-5 p.m. The entire event is completely free and includes musical groups, cookies, cider and pictures with Santa. Enjoy the beautiful 1897 Poe House in all of its Christmas glory, while creating some lifelong family memories or traditions.

If attending the Holiday Jubilee is out of the question, there is still time to see the Poe House in its holiday glory. The house will be decorated with all of its Christmas gear by Nov. 19. Megan Maxwell said, "The Christmas decorations go up the week of Thanksgiving. So, people can come and view the Christmas decorations during our regular Poe House tours, starting Nov. 19, and they are up all the way through Jan. 5."

For more information, visit the website at https://museumofthecapefear.ncdcr.gov/ or call 910-500-4240.