Details

Tuesday, 01 November 2022
Written by Deborah Murph Jacobs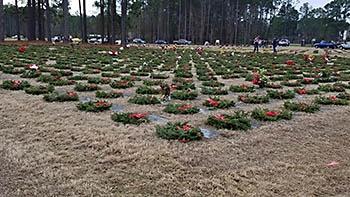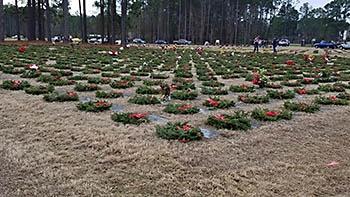 Rolling Thunder North Carolina Chapter 1 invites everyone to remember fallen veterans, honor those who serve and teach your children the value of freedom through the annual Ride for a Wreath.
This is the 4th Annual Ride for a Wreath for Sandhills State Veterans Cemetery, but this tradition has existed for 12 years. Registration will start at 8 a.m. at the Fort Bragg Harley-Davison off Sycamore Dairy Road. The ceremony begins at 10 a.m.
The Escorted Ride for a Wreath will take off at 11 a.m. and the ride will conclude at noon at Dirty Whiskey Craft Cocktails in Hope Mills. This event is open to the public, and all vehicles, cars, jeeps and trucks are welcome along with motorcycles. The ride is $20 per motorcycle, $10 per passenger, as well as $20 per vehicle.
The event raises funds for Wreaths Across America, a nonprofit organization established in 1992. The project continues to grow. This year there will be 3,400 participating locations nationwide and overseas dedicated to providing a wreath for those who served and are buried in veterans cemeteries. Local donations will provide wreaths for Sandhills State Veterans Cemetery.
If you cannot participate in the event, you can still donate. For every two wreaths sponsored, an additional one will be given for free. Wreaths cost $15 each, $30 for two, but the most popular donation is five wreaths for $75. Please make sure that the location to support is Sandhills Cemetery when donating.
Ann Provencher, the program coordinator, says "So far, we have 1,510 wreaths sponsored and we have 1,490 to go. We are halfway to our goal."
Provencher goes on to say, "Every year we have had enough wreaths for every veteran buried in Sandhills State Cemetery."
Nationwide, the wreaths will be placed on the graves of the Veterans Cemetery on Saturday, Dec. 17. The ceremony will be held promptly at noon. Locally, volunteers are encouraged to be at Spring Lake Fire Department at 9 a.m. Saturday morning to load the wreaths onto the trucks. There will be highway patrol and motorcycle escorts to lead the convoy of trucks carrying the wreaths at 11:30 to the Sandhills State Veterans Cemetery.
Parking is limited at the Sandhills State Veterans Cemetery, so organizers suggest parking outside the cemetery to ensure room for the convoy of wreaths. For people who need assistance getting to the cemetery, there will be four golf carts carrying people from their cars to the event.
When the wreaths are placed at the graves, their names will be said out load by the volunteer placing the wreath.
"People die twice. Once when you actually die and secondly when you are forgotten," Ann says.
The veteran's name is said so that they will never be forgotten and to honor their legacy and sacrifice.
Fort Bragg Harley-Davison is located at 3950 Sycamore Dairy Road. Sandhills State Veterans Cemetery is located at 8220 Bragg Blvd. in Spring Lake, which is not on the Fort Bragg military installation. To sponsor a wreath please visit www.wreathsacrossamerica.org/pages/166832 which will designate the location. Donations are accepted all year long.
For more information or to volunteer, please contact the Rolling Thunder NC Chapter 1 President, Ann Provencher at 910-670-9280 or ann3989@yahoo.com.
The local Wreaths Across America Facebook page is www.facebook.com/WAASandhills.