Details

Monday, 14 October 2019
Written by Jeff Thompson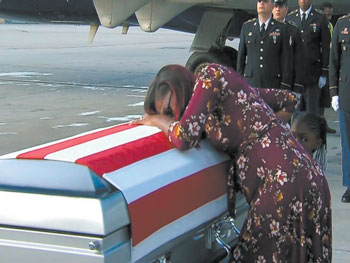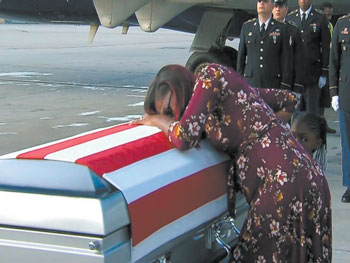 The U.S. is offering a $5 million reward for information that leads to the arrest and conviction of the militants who committed or aided in the deadly Oct. 4, 2017, attack on a joint U.S.-Nigerien military patrol that left four Fort Bragg soldiers dead. The U.S. Department of State's Rewards for Justice Program is offering an additional $5 million reward for information on the whereabouts of Adnan Abu Walid al-Sahrawi, the leader of the ISIS offshoot known as Islamic State in the Greater Sahara, according to a news release.

The ISIS affiliate in West Africa claimed responsibility for the deadly attack that overwhelmed an American special operations team and roughly 30 Nigerien soldiers who accompanied the patrol near the village of Tongo Tongo, Niger. The patrol was pursuing an ISIS commander named Doundoun Cheffou when it was ambushed, resulting in the deaths of Sgt. 1st Class Jeremiah Johnson, Staff Sgt. Bryan Black, Staff Sgt. Dustin Wright and Sgt. La David Johnson. They were assigned to Army Special Forces Operational Detachment Alpha 3212.

An investigation into the deadly firefight uncovered several things that went wrong with mission planning before the patrol. The team was not authorized to conduct capture or kill missions. Team leaders were not clear in its concept of operations paperwork that they were to pursue Cheffou. However, the investigation noted that the officers who filed the paperwork were not deceptive. A few people, mostly enlisted Green Berets, were reprimanded following the ambush, including Maj. Gen. Marcus Hicks. He was the commanding officer of Special Operations forces in Africa.

Family members expressed their unhappiness in interviews with ABC News with the Pentagon's decision not to punish other senior commanders for their role in the circumstances that led to the deadly attack. The decision that two officers in the Green Berets' former chain of command — Col. Brad Moses and Lt. Col. David Painter — would not receive administrative punishments means that they will be eligible for future promotions and commands. Painter, according to multiple sources, received a reprimand, but it wasn't a career-ending punishment, and he is reportedly up for a promotion.

Family members complained that Painter, as well as Moses, commander of Fort Bragg's 3rd Special Forces Group, should be accountable for placing the team near ISIS fighters. Rep. Ruben Gallego, D-Ariz., who advocated for the families, called the decision to not punish higher-ranking officers "a shirking of responsibility to the memory and families of the deceased."

The fallen soldiers in the ambush were posthumously awarded medals for valor. Wright's family was presented with the Silver Star in August. Wright's father said he was told his son had been nominated for the Medal of Honor, but that it "was downgraded twice" and that he would receive a posthumous Silver Star. Sgt. La David Johnson's family was also presented with a Silver Star. He was a mechanic assigned to the special operations team. Sgt. 1st Class Jeremiah Johnson and Staff Sgt. Bryan Black were posthumously awarded Bronze Stars.
Pictured: Sgt. 1st Class Jeremiah Johnson's widow, Myeshia