Details

Tuesday, 30 August 2022
Written by Hannah Lee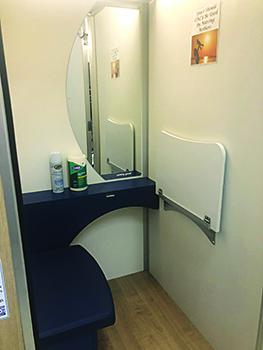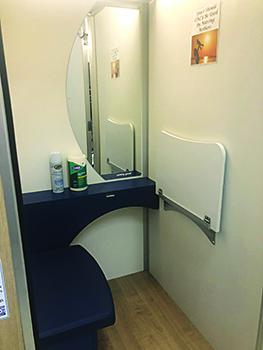 Mothers working for the Police Department in Fayetteville will now have three locations to pump and store milk for their babies safely.
It is a federal law for workplaces to provide a safe and clean place for mothers to express milk during the workday. However, the idea of bringing up the topic can be uncomfortable and embarrassing for many women, especially those that work in a male-dominated field. It can often lead many women to pump and dump in a bathroom.
Chief Gina Hawkins tells Up & Coming Weekly that when she had her first child, she was 23 years old. She felt uncomfortable telling anyone she had to pump milk for her baby. She felt like she needed to be tough, especially as a young female cop. By being tough, you don't ask for favors or accommodations.
"Instead, I went into nasty bathrooms in order to make sure my baby had milk. And then I had to hide what I was doing and hide how I was freezing those items. That's a lot of pressure for someone," Hawkins said.
"When I had my second child, it was ten years later and I was still trying to keep it a secret. And I was a supervisor, and I had an office. I had to figure out how to freeze it until I got home. I knew the law, and I still didn't want to ask for accommodations."
Breast milk needs to be refrigerated within four hours of being expressed. Otherwise, it goes bad. Outside of just needing to feed their child, mothers who can't safely express milk can experience mastitis - an inflammation of breast tissue that sometimes involves an infection. This inflammation can be extremely painful.
Making sure that employees are taken care of is a top priority for Hawkins. Having a clean and accessible place for mothers to pump is part of employee wellbeing. To retain and recruit new employees, Hawkins looked into innovative ways of how the FPD could help lessen the stress.
"How do you recruit people to come into this profession? You need to make sure you're thinking about them and thinking about ways that they don't have to stress out to come into this work environment," Hawkins said.
A $30,000 grant has provided FPD with the funds to buy two lactation pods. These pods are secure, freestanding areas where moms can go inside and pump. It is 16 square feet and is compact.
The inside of the pod looks like an airplane seat. In front is a fold-down tray that allows parents to work on their laptops or eat a meal. To the parent's left is a shelf with an outlet that you can use to plug in a pump or your phone. There is also a coat hook, lighting and a mirror.
The pod can be locked so no one can interrupt the mom while she is expressing milk. Outside the pods are mini-refrigerators that are dedicated to storing breast milk. This ensures the milk will not be inadvertently thrown away — something that happens with community fridges in break rooms or kitchens.
The pods are placed in a discreet location, so moms don't have to worry about who will see them entering or leaving the pod.
The two pods will be located at the Cross Creek District Police Station and the Campbellton Police Station.
The pod at Cross Creek is currently operational.
The other location where moms at the FPD can pump is in the wellness center at the headquarters in downtown Fayetteville. This room has been available to moms for the past two years.