Details

Tuesday, 12 May 2020
Written by Jeff Thompson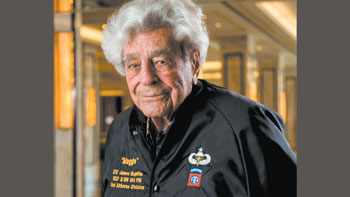 Legendary World War II paratrooper Lt. Col. James "Maggie" Megellas, one of the 82nd Airborne Division's original "Devils in Baggy Pants," died April 2 at his home in Colleyville, Texas. Megellas died three weeks after celebrating his 103rd birthday. His death was announced by the 82nd Airborne Division in a Facebook post on April 3 that said, in part, "This loss will be felt by us all. Remember, Paratroopers never die, they just slip away."
Widely written about and portrayed in movies, Megellas' wartime heroics occurred when he was a platoon leader in Company H, 3rd Battalion, 504th Parachute Infantry Regiment during World War II. In several combat engagements, he earned the Distinguished Service Cross, two Silver Stars, two Bronze Stars and two Purple Hearts, making him the most decorated officer in the history of the 82nd Airborne Division.
He was first wounded in action in Italy in the mountains above Naples. He also jumped into the Netherlands during Operation Market Garden, made the crossing of the Waal River near Nijmegen and served in the Battle of the Bulge in Belgium. He often told the story of his unit and its crossing of the Waal River in rowboats, a scene that is portrayed in the 1977 classic film "A Bridge Too Far." Discharged from the Army as a captain, Megellas continued serving in the Army Reserve and retired as a lieutenant colonel, according to his biography.
Fayetteville Technical Community College remembers Sen. Rand
FTCC was likely the community's biggest benefactor of the late Tony Rand's many legislative accomplishments. The former North Carolina Senate Majority Leader was a tremendous friend to the college and all aspects of public education, said FTCC President Larry Keen.
The college student center is named for Rand, who died late last month at the age of 80.
"A giant in our community has been lost," said Keen. "No one had more compassion for our diverse population than Tony Rand."
He represented Cumberland County for more than two decades in the Senate. Rand served on the FTCC Foundation's board of directors for 16 years, from 1992 to 2008, and in 2003 was the first person to be named an honorary trustee of the college. In 2004, because of his leadership and financial support, FTCC was able to build and renovate its campus facilities, including the student center, the Center for Business and Industry, the Continuing Education Center, the Health Technologies Center, the Advanced Technology Center and the Early Childhood Education Center. Keen also noted that the senator's leadership was key in the passage of a 2000 bond referendum for higher education, which provided FTCC with more than $38 million. That money was used to open an FTCC location in Spring Lake and build the Virtual College Center and the Horticulture Technology Center.
Rand was influential in the establishment of the North Carolina Military Business Center and making sure it was part of the community college system, with headquarters at FTCC, said Scott Dorney, the center's executive director.
Face coverings have become necessary
for some
Cape Fear Valley Health System patients and Cumberland County Courthouse visitors must bring their own face masks when receiving care at the hospital or responding to courthouse needs to reduce the transmission of COVID-19. Cape Fear Valley recently made it mandatory for staff to wear face coverings in hallways, meeting rooms and shared workplaces. The updates were implemented as a result of the U.S. Centers for Disease Control and Prevention revised infection prevention recommendations. Approximately 50% of people who are spreading the coronavirus have no symptoms, and half of them never develop symptoms.
The Centers for Disease Control and Prevention recommends that all patients, health care personnel and visitors wear cloth face coverings over their mouths and noses to contain their respiratory droplets. This decreases the likelihood of anyone with unrecognized COVID-19 infection exposing others. Local churches and businesses have donated cloth masks, personal protective equipment and supplies to Cape Fear Valley Health in recent weeks.
Masks should be worn when visiting any Cape Fear Valley hospital, clinic or outpatient facility.
Airborne & Special Operations Museum support encouraged
The Airborne & Special Operations Museum's doors are closed because of the COVID-19 pandemic, but researching and documenting artifacts, providing social media content and preparing to reopen the museum by early summer has kept the staff and supporters busy. Since 2000, ASOM has chronicled important battles and heroic achievements from times past, building a solid foundation of airborne and green beret combat. "This place gave me goose bumps," said one visitor.
"That's why planning now for the future has never been more important to our entire team," said
Renee Lane, executive director of the museum's foundation.
Lane said donations help staff and volunteers to continue engaging and inspiring visitors and educating 12,000 students every year. "Every dollar benefits those who walk through our doors and experiences history," Lane said.
The downtown Fayetteville world-class institution is one of the few military museums built and operated off reservation grounds.
Meals for local school children continue to be available
All Cumberland County Public School meal sites, including bus routes, have been modified to a three-day weekly operation. Meals are now being distributed on Mondays, Tuesdays and Thursdays. On Tuesdays and Thursdays, children will receive two days of meals that include frozen entrees with heating instructions. Altogether, five days of breakfast and lunch meals will continue to be provided. The Douglas Byrd Middle School has resumed serving meals. Cumberland County Schools closed that site for two weeks after a worker tested positive for COVID-19. Visit http://bit.ly/mealpickup for more information about meal service distribution.