Details

Monday, 28 December 2020
Written by Staff Report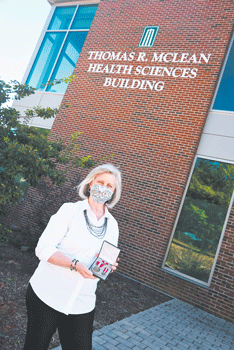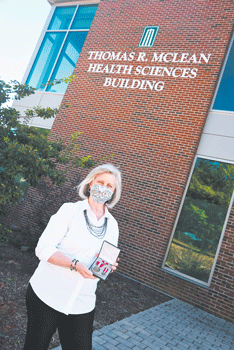 Dr. Sheri Michel, a professor in the Doctor of Occupational Therapy Program at Methodist University, has received the Meritorious Civilian Service Medal, one of the U.S. Army's highest civilian honors.
As our times often dictate, Michel was honored by the Army in a virtual ceremony with her physical honors (medal and proclamation) coming later.
"Without a doubt, it truly is an honor," said Michel, who is now a part of MU's ground-breaking program, the first entry-level OTD program in the state of North Carolina. "It is quite humbling and exciting to know that others saw my accomplishments as distinguished enough to warrant an award of this caliber."
Prior to joining MU's OTD program in August 2020, Michel worked as the Chief of Rehabilitation Services of the Soldier Recovery Unit (formerly Warrior Transition Battalion) at Brooke Army Medical Center at Fort Sam Houston in San Antonio, Texas. Her work with the Army dates back to 2008.
During the ceremony, former colleagues discussed Michel's accomplishments, which include managing a team of more than 20 personnel, both military and civilian, and completing deployments to the Republics of Georgia and the Ukraine. She was nominated for the award by Lt. Col. Edward Bridges, M.D., who served alongside her as a battalion surgeon.
"I consider her to be a pioneer in the area of developing rehabilitative care and comprehensive recovery for soldiers who have experienced trauma, as well as soldiers who have just gone through difficult times over the history of their career," Bridges said.
After returning from her deployments, Michel was ready to step aside to allow another professional to grow and mature as a leader in the newly reformed Soldier Recovery Unit.
"I was intrigued by the fact the OTD program at Methodist was new and developing and I was drawn to the challenge of being on the forefront of change," said Michel.
For Dr. Meredith Gronski, director of the OTD program at Methodist, Michel's unique background is a strong point. Professors with extensive backgrounds in unique settings have a special knowledge and expertise to offer future occupational therapists.
"We were immediately impressed with Dr. Michel's prestigious career with the U.S. Army that highlighted her skills as a leader and trailblazer," said Gronski. "Her successful development of rehabilitation programs and staff reflects exactly what we have done here at the MU OTD program as the first entry-level OTD program in the state."
Michel hopes to simply "be a good professor" who instills her love of occupational therapy within her students. She looks forward to challenging future leaders of occupational therapy in hopes of advancing the practice beyond its traditional settings. These hopes are common amongst the faculty in the OTD program. According to Gronski, applicants and students quickly develop strong connections to the program's faculty.
"A genuine care for students is a disposition that you cannot teach, and we have successfully built a team that embodies this as an essential value," she said. "We knew Dr. Michel would be a good fit on our team to fulfill our mission to develop exceptional practitioners who will advance the profession through innovative, authentic practice."
Pictured: Dr. Sheri Michel, a professor in the Doctor of Occupational Therapy Program at Methodist University, on the MU campus showing her Meritorious Civilian Service Medal.