Details

Tuesday, 19 October 2021
Written by Elaina J. Martin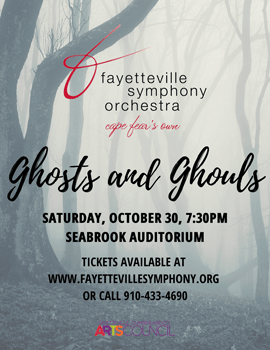 Want to get in the Halloween spirit through music?
Well, the Fayetteville Symphony Orchestra is hosting a fantasy and ghostly themed performance, just in time for Halloween. The Ghosts and Ghouls one-night event will take you on a Halloween themed journey of exceptional orchestral music.
The performance will feature music from Disney's Fantasia as well as Alfred Hitchcock's Vertigo. Some of the other pieces that will be performed include:
"Waltz from Masquerade" by Aram
Khachaturian
"A Night on Bald Mountain" by Modest
Mussorgsky arr. Rimsky-Korsakov
"Danse Macabre" by Camille Saint-Säens
"Beauty and the Beast" from "Mother Goose" by Maurice Ravel
"The Sorcerer's Apprentice" by Paul Dukas
"Firebird Suite (1919)" by Igor Stravinsky
Stefan Sanders will be the conductor of Ghosts and Ghouls. He is an arts advocate, and focuses on cultivating cultures of artistic excellence, sustaining growth and development and having meaningful engagement within the community.
When asked what his favorite piece to conduct has been, Sanders explained that whatever piece he is conducting at the moment is his favorite. Although he does have some preferences.
"I like the ending from the "Firebird Suite" 1919 by Igor Stravinsky," Sanders said.
The entire performance will be an hour and 20 minutes long.
Ghosts and Ghouls will also be kicking off the 2021-2022 season for the Fayetteville Symphony Orchestra. There are six total season concerts this year. People have the option to buy tickets for the full season, tickets for three concerts or tickets for each individual concert.
Ticket prices for the Ghosts and Ghouls performance ranges from $5 for children, $20 for military and seniors, and $25 for adults.
However Ghosts and Ghouls isn't the only spooky event that the Fayetteville Symphony Orchestra is performing. They will also be performing at the Heckler Brewing Company Oct. 28 for their community concert series, Symphony on Tap. This concert will be Hogwarts Edition, so the music – and the alcohol – will all be Harry Potter themed.
Symphony on Tap is a new series by the Fayetteville Symphony Orchestra that aims to engage the community through music and beer. Symphony on Tap performances are free admission.
While there is no dress code to attend, the Ghosts and Ghouls concert encourages costumes for both attendees and the musicians. The one thing that is required to be worn are face masks.
Ghosts and Ghouls will take place, Oct. 30 at 7:30 p.m. at the Seabrook Auditorium at Fayetteville State University. Tickets can be purchased at https://ci.ovationtix.com/36404/production/1075542