Details

Tuesday, 30 March 2021
Written by Jeff Thompson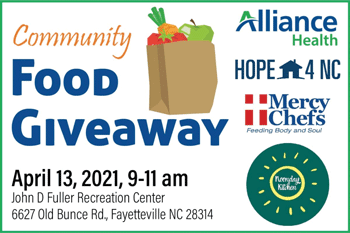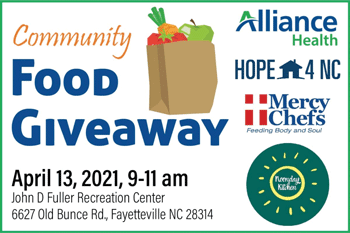 Alliance Health, Hope4NC, Noonday Kitchen and Mercy Chefs will host a food giveaway to address food insecurity in Cumberland County on April 13 from 8 a.m. until noon at the John D. Fuller Recreation Center, 6627 Old Bunce Road in Fayetteville. This event is open to all Alliance members as well as the community. Community members who are picking up one or two boxes can just show up at the event. Community partners who are seeking bulk packaging are asked to pre-register at http://bit.ly/foodboxpickup.
USDA's Agricultural Marketing Service is partnering with national, regional and local food distributors who have been impacted by COVID-19. This partnership purchases fresh produce, dairy and meat products from American producers. Distributors package these products into family-sized boxes, then transport them to food banks, community and faith-based organizations, and other non-profits serving Americans in need.