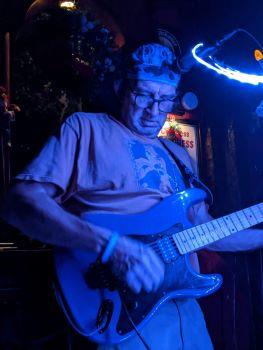 April is Autism Awareness Month, and "Jammin'" Jon Kiebon knows what Fayetteville needs to kick it off in high style. The first annual Artists for Autism Awareness benefit concert will take place at the Fayetteville Bakery and Cafe on Saturday, April 3, from 12 to 5 p.m.
Formerly called Jammin' Jon's Rocking for Autism Awareness, the event was conceived in 2012 on the boardwalk of Rockaway Beach in New York and inspired by his daughter, Gail, who was diagnosed on the spectrum before age two.
Kiebon, a New York musician heavily inspired by the work of Frank Zappa, saw a concert as an opportunity to bring more visibility to people on the spectrum and fundraise for important causes.
"The autism community can be so fragmented, and people are so leery of one another. This event is about raising awareness for autism, available resources to those on the spectrum, and bringing the community together."
In search of affordable housing amidst the uncertainty of the pandemic, Jammin' Jon found his way to Fayetteville by chance, then quickly found his tribe in business owner Franco Webb and local spoken-word artist "Little Niecie."
What began as a discussion between sets at the open-mic nights hosted by Webb's Fayetteville Bakery and Cafe would eventually become the blueprint for April's concert.
Little Niecie, who also has a child on the spectrum, is incredibly passionate about this project, taking on the co-coordinator role.
At her suggestion, the concert will keep its origins as a fundraising event, with 100% of its proceeds going to Cumberland County special education teachers.
"Special-Ed teachers go through so much and pay for so much out of pocket. So we've teamed up with School Tools," another business based in Fayetteville, "to ensure these teachers get what they need."
Niecie's involvement also stems from a place a bit closer to home. Like Jon, she wants to be an agent of awareness regarding autism.
"People tend to think of autism in one scope; this event is an opportunity to educate the community about what autism is and what it can be. We also want people to have fun at an awesome family event."
In that vein, Artists for Autism Awareness has plenty to offer.
The 1-hour open mic stage will give local artists, many of whom are on the spectrum themselves, an opportunity to shine. In addition, performers can look forward to an awards ceremony at the end of the set, presented by "Little Niecie" herself.
Attendees can pursue various vendor booths selling everything from woodcraft, wreaths, and jewelry to children's books and poetry.
Information booths for veterans and those with disabilities will be on-site to offer more information on available resources in the community.
Complete with food trucks, a raffle, and plenty of activities for kids in attendance, the Artists for Autism Awareness is an event for anyone and everyone.
Not forgetting its roots as a musical festival, the main stage has quite a show for those in attendance.
Several local musicians, such as Fat Freddy's Cat and Kevin Taylor, to name just a few, will be there to rock the crowd.
By no means a local, but proud to now call Fayetteville his home, Jammin' Jon will also take the stage to give back to a community for which he is so grateful.
"This is surreal," Jon says reflectively of the event, "this is much bigger than what I did in Rockaway; I never had anything like this."