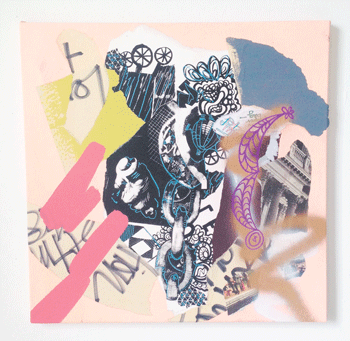 After months of staying home due to COVID-19, I felt comfortable visiting a gallery. My first stop was to see the exhibit Artists Who Teach 2020 at Ellington White Contemporary Gallery. I was not disappointed and upon leaving the exhibit I felt a sense of joy seeing works created by art educators from around the country.
Curator Dwight Smith extended the exhibit until Dec. 19 so more people could visit the gallery and see 36 original works in a variety of media from artists working in higher education and public schools. The gallery and online exhibit are the result of artists from 26 states participating in the national competition by sending 156 images to be part of the selection process.
Leaving the gallery, I realized my approach to writing an art editorial for Up & Coming Weekly would not be the same as before 2020. Too much has happened this year which has impacted our daily lives and community. A paradigm shift has taken place in Fayetteville, the American culture and around the globe. Then there is the obvious, why would people venture out to see Artists Who Teach 2020 when viewing works of art has become more online accessible than ever before?
We can stay at home and visit museums and galleries around the world from our living room. Technology and live streaming have defined "our today" in many positive ways; but unfortunately, it has also become a consuming mass distraction — the 2020 Zeitgeist of seeing reproductions online lacks the experiential or contemplation.
The concept of zeitgeist traditionally refers to the overall spirit of an age (politically, economically and culturally) and cannot be known until it is over. So why does it feel like the 2020 Zeitgeist is not only upon us, but "all over us?" I could go with the contemporary version of zeitgeist, though not pragmatic, and refer to what is tasteful in today's culture … I do not think that is even possible.
The information highway is not new, but 2020 online, virtual accessibility and mass communication has fast-forwarded us into sensory overload. This includes, but is not limited to, the lingering COVID pandemic and the resounding influences of the internet: live streaming, hashtags to esports, social distancing to online education, podcasts, Zoom, video-based communities, what is factual, what is real, the video is becoming the main medium for critical cultural moments, and lots and lots and lots of tweets. According to internetlivestats.com, around 6,000 tweets are tweeted on Twitter every second with 145 million daily active users on Twitter, an average of which corresponds to over 350,000 tweets sent per minute, 500 million tweets per day and around 200 billion tweets per year.
If you do go to "internetlivestats" you will see a page of flickering, perpetually increasing numbers. Numbers across the screen flick as they are constantly totaling upwards to reveal what happens in a day, by seconds, to compute the increased usage of the following: internet users of the world, number of emails sent, number of websites, google searches, blogs and tweets, videos seen on YouTube, photos uploaded from Instagram, Tumblr posts, actives users on Google, Facebook, Pinterest and Skype, number of websites hacked, number of computers, smartphones and tablets sold, internet traffic, electricity used today on the internet and CO2 emissions from the internet. It is easy to see, hands down, how this website image affirms and IS the definitive 2020 Zeitgeist!
If you are still reading after the last two paragraphs, a slight sensation might be taking place — too much information! Sensory overload is a part of 2020. Sensory input is most often pleasing; but when we have sensory overload, when one or more of our bodily senses' experience over stimulation — it can be very unpleasant.
The main purpose of the internet is to provide global access to data and communications. Sensory overload of information occurs when we do not practice the purpose of information: to resolve uncertainty. Full circle to the beginning of the article: technology and live streaming not only define "our today" in positive ways; but it also has the potential to become a consuming mass distraction - lacking the experiential or contemplation. Bottom line, the explosive growth of information has become sensory overload, unpleasant and even inhibits thinking.
A starting point to reestablish the best of the remnants of 2019 and back to the notion of thinking, feeling and the real is possible at Ellington White Contemporary Gallery. Curator Smith noted: "Due to the success of last year's competition, this is the second year we conducted and presented the results of a national competition among art educators. The art educators are from higher education and the public schools' systems across the nation. The exhibit is a very diverse group of paintings, drawings, prints, mixed media works, and three-dimensional works and showcases the arts as an essential part of a complete education. It does not matter if happens in the home, school, or community. Students of all ages, from kindergarten to college, and creative program all benefit from artistic learning, innovative thinking, and the creative imagination."
Smith, also an Associate Professor of Art at Fayetteville State University, and Vilas Tonape, artist, and chair of the Visual Arts Department at Methodist University, both juried the competition from the 156 entries. Tonape selected the six award winners. Ellington White Contemporary Gallery is not only hosting the gallery exhibit but also created an online exhibit. Both exhibits will remain on the gallery online website for one year.
Online exhibits have been extremely important in 2020 to galleries and museums, but it does not replace the real. Works of art in galleries and museum are more relevant than ever before. Comparing two of the works in Artists Who Teach 2020 is my way of exemplifying the differences and why supporting local galleries is important now and, in the future, when the COVID restrictions are finally lifted.
While writing this article, I contacted Beverly Henderson, the student intern at Ellington White Gallery, and asked her one simple question: how do you like the exhibit? Her last remarks were: "… a lot of diversity in the works. It was different seeing the work online and when the original works arrived. After we hung the exhibit and I had time to look, I could see more details and felt an emotion from the real work which I did not feel when seeing the online version."
Henderson is correct, as soon as you enter the gallery visitors will immediately see very diverse approaches to image or object making; but they will also, unknowingly, sense materiality. Then it takes real time in a real space to examine and compare how each artist creates the content of their work with style, composition and use of materials.
The materiality of the painting titled "Three Brushes" by Larry Hamilton, from Wichita Falls, Texas, is a masterful oil painting. The beautifully painted small still life captures the essence of a moment in time. Viewers can get close to the oil painting on panel and see a manipulated surface, transitions of light, saturated color, half tones and atmosphere. The physical richness of surface is subtle as it catches the light created of paint and paint medium.
In comparison, the style of Danielle Cartier, from Camden, New Jersey, is a mixed media work titled "Ever Knew" and is the opposite of Hamilton's painting. Instead of a traditional still life, the artist has created a multilayered abstract and referential surface using acrylic paint, spray paint and mixed media. Her style is to juxtapose unlike images in the same work to evoke new meaning for the viewer.
Hamilton's painting evokes an aesthetic sense of presence, calm, beauty and structure. Cartier's work is ethereal, moving parts create a whole, we sense process and the act of looking. Whereas Hamilton's' pictorial space is about volumetric form, light and the effects of color; Cartier's work is about decoding messages and signs.
In both works there is a time element. In "Three Brushes" we sense the artist is sharing a long period of contemplative looking. The exact opposite, Cartier's "Ever Knew" are the many references and signs we overlook and do not see during the day.
One could say the attributes of each work is conveyed online. But it is not impossible. The online versions are pictures of a picture (the painting or mixed media). The absence of material results in passive looking. Seeing the actual constructed work is a visceral activity, an active experience which includes the physical presence of the object themselves.
Even though "Three Brushes" is enjoyed for the illusion of space that is created on a flat surface, it is still first and foremost, an actual object in space that has literal texture, density and weight. Even though most viewers do not think about the qualities inherent in the object, those inherent characteristics are integral to the overall authenticity of the work and are not present in the online version or the reproductions in this article.
One could say those same aesthetics are communicated online. My answer would be there is a resemblance, but it is not the same. We do not see or experience the physical depth of a painting medium or the tactile edges of mixed media work in an online version. We do not see the differences in the actual surface of the color from spray paint, the chalky quality of pigment blown onto the surface compared to the color of suspended pigment in an oil medium as leaves a tube of paint.
As an analogy, you do not need to know the science of a sunset to enjoy it. But the sunset would not exist without the science. And experiencing a real sunset is better than a reproduction. That premise relates back to the authenticity of the sunset which exists in time and space. So, it is with a work of art.
No matter how close technology can bring us to examine a microscopic, detailed surface of a painting – images in this article and online are reproductions. This idea was explored as far back as the late 1930s by Walter Benjamin in his book titled "The Work of Art in the Age of Mechanical Reproduction." The early 20th century was the beginning of mass communication, mass culture and mass commodification. Within that context, Benjamin emphasizes the value of an authentic work of art is the result of its "aura." It is the "aura" we enjoy and that includes the object's presence in time and space. It is the same with a sunset, the validity of seeing the real over a reproduction is its physicality, its "aura."
In closing, I would like to share a personal story which summarizes everything. After seeing the paintings by Vincent Van Gogh in books and online for over 20 years, I had the opportunity to see a body of his work at the National Gallery in Washington, D.C. Upon seeing the real work, I immediately realized, after so many years, I had never really seen a painting by Van Gogh. What I had experienced before going to the exhibit, were not remotely comparable to seeing the real painting.
So here we are, on the precipice of an increasingly changing technological future. And since, according to Benjamin, "our sensory perspective is not completely biological or natural, it is also historical," what does the future look like for us? How will the internet influence what we value? What choices will we make to prioritize what we do with our time, and how will we choose to deal with increasing mass media and internet overstimulation?
Perhaps it will not be gloomy, but it will have the opposite affect. We will take action to deal with internet sensory overstimulation of information by doing more of the activities we know helps: critical thinking and reflection, take a walk during our lunch break at work, visit parks or take long walks during the weekend, go to the theater, a musical performance or to a gallery.
The exhibit Artists Who Teach 2020 is a good place to start and if you take the time to look at each work you will leave the gallery with a sense of pleasure unlike seeing artwork online. Please note the exhibit will not be up for long, until Dec. 19. The gallery is not open Monday-Thursday, but only open on Friday and Saturday between 11:00 a.m. – 4:00 p.m.
Like all businesses everyone is required to wear a mask when they enter the gallery. The exhibit was possible by a grant from the Fayetteville and Cumberland County Arts Council. For information mail ewp-arts@hotmail.com or go to their website: https://www.ellington-white.com/
Pictured above: "Ever Knew" by Danielle Cartier from Camden, New Jersey.
Top left: "Three Brushes" by Larry Hamilton from Wichita Falls, Texas
Top right: "Made in USA" by Dan Kuehl from Roanoke, Virginia
Bottom left: "Breath" by Paul Adams from Lindon, Utah
Bottom right: "Life Series" by Jennifer Salzman from Creswell, Oregon