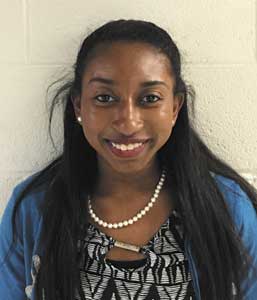 Jade Jordan of Pine Forest High School recently wrapped up her outstanding track career for the Trojans in style.
At this year's N.C. High School Athletic Association 4-A championship meet at North Carolina A&T in Greensboro, Jordan won her second consecutive state title in the long jump with a leap of 19 feet, 6.5 inches.
Counting her previous indoor long jump championship, that's three state titles. She was also a freshman national champion in the long jump. Add to that the fact Jordan was a dual performer in the spring for Pine Forest, running track while being a star player on the Trojan soccer team, and her feat becomes even more impressive.
Terry Wickham, track coach at Pine Forest, said Jordan ranks among the top three track athletes he's ever coached at the school.
"Lincoln Carr won six state titles in the long jump and triple jump,'' he said. "Ryan Davis won three titles in the shot put.''
Wickham said if Jordan had competed in track alone she possibly could have added state titles in events like the 300 hurdles and the triple jump, but her demanding athletic schedule wouldn't allow her time to do the sport-specific training in those other events.
"She works extremely hard and has the passion to compete,'' Wickham said.
Jordan wasn't the only Fayetteville and Cumberland County athlete to fare well in this year's track championships. In the N.C. Independent Schools Athletic Association 1-A/2-A meet, athletes from Fayetteville Christian and Fayetteville Academy had big performances.
• Fayetteville Christian's Nashya Pagan was a double winner for the Warriors. She took the 100 and 200-meter dashes with times of 12.47 and 25.93.
• Fayetteville Christian also had a trio of winning relay teams. The girls triumphed in the 4x100 and 4x200 while the boys' won the 4x400.
• The 4x400 boys' team of Eli Sutton, Brennan Gantt and twins Jaylen and Jamarii Green broke the N.C. Independent Schools Athletic Association state record with a time of 3:30.87.
• Pagan, Chiara Waddy-Arce, Aeryon Davis and O'Mauri Robinson won both the 4x200 and the 4x100. Their times were 1:48.16 and 51.79,
respectively.
• Also participating in the 1-A/2-A meet was Fayetteville Academy's Morgan Dorsey. Dorsey triumphed in the 800 meter run for the Eagles with a time of 2:20.72.