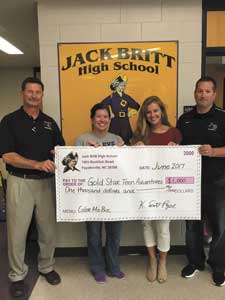 Summer Solheim ran cross country and track at Jack Britt High School during her years there, but some of her fondest memories on the track likely came from this year's Color Me Buc run held at the school
in April.
Solheim is the daughter of Lt. Col. Kent Solheim, a special operations soldier and founder of Gold Star Teen Adventures. This year's Color Me Buc run, which featured a one-mile fun-run and a 5K run, raised $1,000 for Gold Star.
Summer described Gold Star as a foundation created by her father in 2011 with the objective of offering special adventures and experiences to the children of fallen special operations soldiers from any branch of the United States military.
"We go on outdoor adventures and scuba adventures,'' Summer said. "A lot of the mentors come from the service academies.''
She said the participants and mentors build relationships over time, and that the experience is often as beneficial for the mentors as it is for the young people who take part.
"A lot of the members go on to become mentors for the new members of the camp,'' she said. "A lot of the teams come back and help fundraise for the program itself.''
Summer, who just graduated from Britt and will enroll at the University of North Carolina at Chapel Hill this fall, said she has been attending the Gold Star camps since she was 12.
"I've done a lot of fundraisers and run half marathons,'' she said. "I really enjoy being a part of it.''
Photo caption: L-R: Jack Britt Principal Scott Pope; CMB coordinator Danielle Steinhauser; Summer Solheim, 2017 Jack Britt graduate and daughter of Gold Star Teen Adventures founder Lt. Col. Kent Solheim; Assistant Principal Mike Picciano