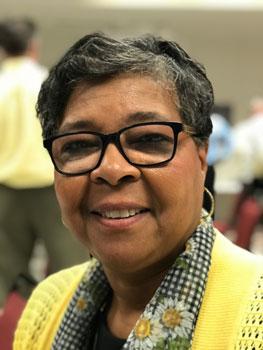 At least part of the N.C. High School Athletic Association Eastern Regional basketball tournament will return to Fayetteville next year, but unless a second site can be found, some of the games may move elsewhere.
Que Tucker, commissioner of the N.C. High School Athletic Association, was in Fayetteville last week along with members of her staff for the annual Region 4 meeting of the NCHSAA at the Educational Resource Center.
Tucker said that Fayetteville State has again offered to host the tournament in Capel Arena, where the boys' games were held last season.
But it appears unlikely that the girls' games will return to Methodist University.
"Methodist was a wonderful host, but we knew going in (that) in terms of size it would present some challenges,'' Tucker said.
The seating capacity of Methodist's Riddle Center is 1,300 according to the school website. That became a problem when fans from eventual girls' state champion Clinton packed the stands and wound up sitting on the floor.
Tucker said the NCHSAA reached out to UNC-Pembroke as a possible second site but the recent success of the Braves' basketball team could make scheduling the regional a problem. Talks are in progress with Greenville, which was the host of the regional for years before it moved to Fayetteville.
A return to the Crown Coliseum Complex in Fayetteville is unlikely, Tucker indicated, because of the cost.
"We felt we couldn't do everything we needed to do when you look at some of the expenses involved,'' Tucker said. "We have to do things we feel (are) best for our membership.''
Tucker and her staff completed a tour of the western regions of the state before kicking off the east half last week in Fayetteville. She said there were no burning issues expressed at the meetings so far this year.
A topic likely to come up for a vote at this December's NCHSAA Board of Directors meeting in Chapel Hill is a request by the football coaches to treat their off-season conditioning program the same as everyone else and allow them to work with a full squad.
Tucker said the unique problem with football is the large number of athletes involved and the possible impact it could have on other sports that are in season. Having a large number of athletes practicing in a contact sport like football would also force the NCHSAA to have athletic trainers on site. That is a cost issue, Tucker added.
"Trainers aren't going to want to be out there without getting paid,'' Tucker said. "That's a concern we'll have to address.''
Photo caption: Que Tucker, commissioner, N.C. High School Athletic Association