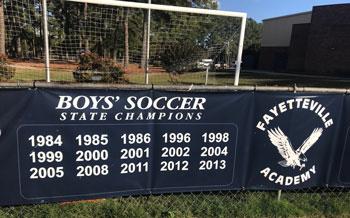 The banner hanging on the soccer field fence listing the state championships won by the Fayetteville Academy boys' soccer team is going to have to be updated. Again.
The Eagles brought home title No. 16 recently when they defeated Coastal Christian 3-1 for the N.C. Independent Schools Athletic Association 2-A title.
Since the string of championships began with the first one in 1984, that's an incredible average of a state title just shy of one every two years.
Nine of those championships were engineered by one coach, Andrew McCarthy, who took over the program in 2001. McCarthy has been aided by another former Eagle head coach, Jimmy Maher, who now serves as McCarthy's assistant.
Talking with players from this year's team, it's easy to see the respect and admiration they have for the coaching duo that has guided this school to unprecedented success.
"They know everything about soccer,'' said Marcos de Paz, a senior and the leading scorer on this year's Eagle team. "We just have to look at them and learn.''
Julian Barbaro said the work of McCarthy and Maher goes far beyond practice. "They're always motivating you to be the best you can, like giving us extra things like summer workouts starting in June,'' he said. "They give us everything they possibly can, which leads to big things.''
Drayton Smith said it's a two-way street for the players, who want to perform to the best of their ability to please their coaches. "They are just great people,'' he said. "You want to play to the best of your ability just for them. Making them happy makes you extremely happy. They are great people on and off the field.''
Goalkeeper Carter Boliek thinks what makes McCarthy and Maher a great team is they know how to balance work with play. "They know when it's time to joke around and have fun,'' he said. "But when it comes to practice, it's all business. And when it comes to games, it's all business.
"We can still have fun, but they really take it seriously, and I think it translates into the team taking it seriously and us giving our best effort.''
With nine state champions to his credit, McCarthy – like all coaches – hates the question about how the current team stacks up against his previous ones, but he still tried to give a good answer.
"We've certainly had more talented teams,'' he said, "but from the beginning, there was always potential. It was definitely a together group, and the team chemistry was very good.''
McCarthy agreed with the players that the relationship he has with Maher is important.
"We've known each other for 20 plus years,'' he said. "I have the utmost respect for him, and he has the utmost respect for me.''
That includes the ability to question each other and offer critical advice. "I think it's a comfort level of being able to tell each other things,'' McCarthy said. "I trust him implicitly.''
If there was a turning point to the season, McCarthy thinks it came after a tough overtime win late in the season against Cape Fear Academy. "That was the last game going into the playoffs,'' he said. "That week, practice was not good the first two days, and we had a meeting about it.''
McCarthy said some of his past teams might not have been able to get over that hurdle, but this team did.
"We rallied well and really got together,'' he said. "We were playing really well in the playoffs.''
One player McCarthy pointed to as a key to the good chemistry on the team was newcomer Hudson Zeisman. "He's a fun-loving kid who's also a leader,'' McCarthy said.
McCarthy added that leadership as much as anything is critical to that mysterious thing called chemistry. "Sometimes when you try to create team chemistry, it backfires. You've got to let it flow and monitor it and try to make a few subtle suggestions. But the key is good leadership. The team chemistry normally takes care of itself.''
The Eagles lose some key seniors like de Paz and Boliek, but McCarthy is optimistic about 2018.
"We're always excited,'' he said. "We feel it will be a good year again.''
PHOTOS: Top: The Eagles are adding another year to the banner. Bottom: L-R: Drayton Smith, Marcos de Paz, Coach Andrew McCarthy, Carter Boliek, Julian Barbaro