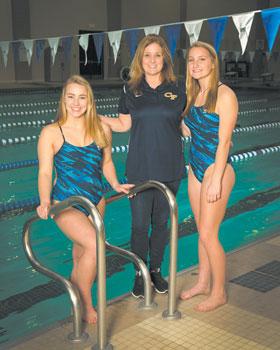 Amey Shook has taken the girls swimming program at Cape Fear a long way in just two seasons – all the way to the Patriot Athletic Conference championship.
Shook, who went to the University of Miami on a swimming scholarship, has been a lover of the sport her whole life.
"I just got back into teaching and coaching recently,'' she said after taking 12 years off to have a family. That family includes daughters Amelia and Madeline, who are both members of her Cape Fear swim team.
She's used her daughters to help scour the halls and classrooms at Cape Fear for swimming prospects. "I'm looking for positive kids, trying to find some well-rounded athletes who want to try something new,'' she said.
The hard part is convincing them to get up at 5 a.m. for 5:30 a.m. practice. "Once they come and see it for a week or two, they get hooked and stick with it,'' she said.
The Cape Fear girls team obviously stuck with it, led by the efforts of Amelia and Madeline Shook.
Both girls swam on Cape Fear's 200 medley relay and 400 free relay teams. Amelia won the 200 free and 400 back while Madeline won the 50 and 500 free.
Coach Shook said Madeline made sacrifices this season for the benefit of the team. "She was willing to swim whatever it took to win the championship,'' Amey said. "She stepped aside for her sister so she could have an event to win.''
Madeline said it can be a little challenging when it's 5 a.m. and time to get up for practice and your mom is the coach – but other than that, she said, swimming is swimming.
"Both of my parents went to the University of Miami,'' she said. "I've always loved swimming and always been on a swim team. My parents have tried to keep us healthy and active.''
Amelia said her mother talks about swimming a lot and tries to push her and her sister a little harder because she knows what they are capable of.
"She stands in the hallway (at school) and encourages everyone to join the swim team,'' Amelia said. "We went from having three girls on the team to 14 or 15. She tries to keep a positive attitude all the time and keep them on the team and returning.''
Coach Shook hopes to encourage athletes from other sports to give swimming a try.
"We're a tremendous cross-training sport in the winter,'' she said. "I have soccer players, baseball players, football players and volleyball players on my team. It helps their other sports.
"At Cape Fear, I'm continuing to spread the word.''
Photo: L-R: Madeline Shook, Amey Shook, Amelia Shook
Photo credit: Carlton Hubbard Photography