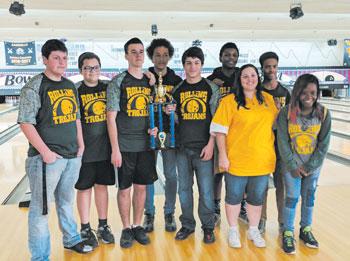 Open season may be a good thing for a hunter, but for a bowler it's about as bad as it can get.
In bowling, going open means not knocking down as many pins as possible in a turn or frame of a game. Pine Forest bowling coach Heidi Henry said her boys team had a lot of open frames during the regular season that caused her squad to struggle.
She repeatedly told her players if they could pull it together, nobody could beat them. They finally proved her right in this year's state bowling championships at Fayetteville's B&B Lanes. The Trojans battled back from being third seed to defeat No. 2 Lakewood 292-202 and No. 1 Gray's Creek 295-241 to take the title.
Henry praised the performance of junior Jacob Ezzelle in the championship match as a key to Pine Forest's victory.
"He had only one or two open frames during bracket play, which is really critical," Henry said.
Ezzelle was bowling in the No. 3 position for the Trojans. "If he opened, that's an open in the middle of the game, which is essentially where it could hurt you the most,'' Henry said.
Having Ezzelle avoid open frames helped set up the fourth and fifth bowlers in the Pine Forest lineup to perform with more confidence in the closing frames, to score well and have a good game for the team.
Ezzelle has been bowling since he was a freshman, following in the footsteps of his brother who was also a member of the Trojan bowling team.
He called bowling a serious sport that is also relaxing.
While Ezzelle said he always had high hopes for a good season, he didn't think this year's Trojan team would make it as far as it did.
"It was little things here and there that hurt us,'' he said of the team's regular-season problems. "I wouldn't say I was disappointed. I felt we could have done better.''
Ezzelle said the team went back to basics and focused on practice at an individual level to overcome its earlier mistakes.
He thinks prospects for the future of bowling at Pine Forest look good.
"We're losing one senior and we've got some young guys that are going to step up,'' he said. "I think we'll be fine.''
As for Ezzelle, he said he plans to listen to Henry, not be as hard-headed and keep practicing.
Photo: L to R: Jacob Ezzelle, Dominik Lipari, Noah Hash, Justin Turner, Kendell St. Peter, William Bonds, Coach Heidi Henry, Jonathan Henderson, Manager Nakeithia Butcher