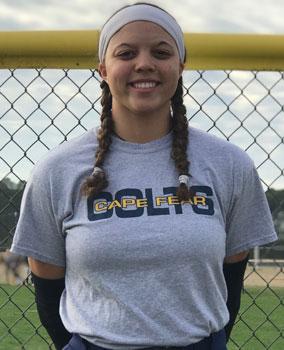 Some big names that were fixtures on the Cape Fear High School softball roster for the last few seasons are no more.
Stars like Haley Cashwell, Bri Bryant, Kaitlyn Knuckles and Kayla Molivas graduated, leaving Colt co-coach Jeff McPhail more than a few holes to fill this season.
"We're probably going to go back to being young again,'' he said after leading the Colts to the 4-A championship series with North Davidson last year. "It will be hard to replace Haley and Bri and all of them, but these kids have been at workouts over the fall and winter, really working hard at it.''
The good news for McPhail is pitching returns intact – with an important addition. Both Katie Murphy and MacKenzie Peters are back for the Colts. They're joined by a senior newcomer, Frankie Steins.
Steins was an All-State selection at J.L. Mann High School in Greenville, Sout Carolina, last year. Originally from Southern Regional High School in New Jersey, she's won a United States Specialty Sports Association World Series title and the Pony Nationals. She has committed to play for North Carolina Central University.
I think she's going to help us,'' McPhail said. "With Murphy and Peters throwing the ball, we're going to be loaded up with three pitchers.''
Replacing all the offense lost with the exit of Cashwell and Bryant will be the big concern for McPhail.
Fortunately, some productive bats do return in the form of Sammi Jo Loney, Alyssa Goshorn and Sidney Gronowski.
Loney batted .450 and was second to Bryant in the county in RBIs with 48.
Gronowski batted .333 and drove in 32 runs. Goshorn had 28 RBIs.
"Sammi Jo is the leader of the crop,'' McPhail said.
Loney said the feeling is a little different on this year's team with all the graduation losses, but she said that familiar Cape Fear chemistry is there. "Everybody has gotten the feel for it,'' she said. "We're getting to know each other and working really good together.''
She thinks with the addition of Steins, pitching will continue to be solid. "She's a good pitcher and has pretty good movement,'' Loney said.
Aside from the changes in personnel, the Colts will be facing some new opponents when it comes state playoff time. Realignment moved them into the 3-A classification, and in some ways McPhail thinks the road to a state title could be tougher than it was as a 4-A team.
"Hillsborough Orange is back and West Brunswick is bringing everybody back,'' he said. Greenville D.H. Conley, a familiar Cape Fear playoff rival from 4-A, is also dropping down to compete at the 3-A level.
"If we do make it to the playoffs, the competition will still be there,'' Loney said. "I think we'll do well this year.''
Photos: (L) Frankie Steins; (R) Sammi Jo Loney