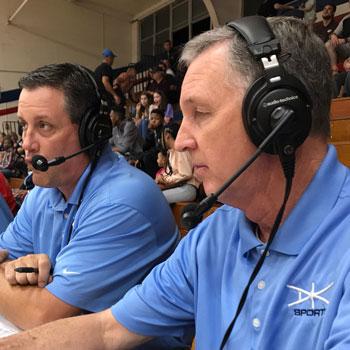 Sitting courtside broadcasting high school basketball games with Trey Edge for DK Sports, the itch to return to coaching just became too much for Bill Boyette.
After a two-year absence, the coach who guided Terry Sanford High School to its first state basketball championship in 50 years will return to the bench this fall when he takes over as head boys coach at Fayetteville Academy.
"The first year I was out, I didn't miss it that much,'' he said of his abrupt exodus from Terry Sanford. "Sitting on the sidelines sort of brought that passion back to me, which I never really lost.''
Boyette doesn't dwell on the topic, but he also had painful memories of his exit from Terry Sanford, the result of a controversy over keeping a player on the team who was facing criminal charges that were eventually dismissed.
Boyette said he chose to resign from Terry Sanford after being presented with a set of parameters from school administrators that he did not agree with.
"According to the North Carolina High School Athletic Association, we did nothing wrong,'' Boyette said. "I chose not to go to the media because I did not feel the need to explain anything. "A lot of people thought I was fired. I was not. I chose to resign.''
All of Boyette's coaching experience has been in public schools, so he admits he's got some things to learn about coaching basketball at the private school level.
"I've known (Fayetteville Academy athletic director) Chip Bishop awhile, and we have had a very good relationship,'' Boyette said. "I'm not that familiar with private schools and I've got to sit down with Chip and find out what the main differences are.''
Bishop is the former head basketball coach at the Academy and guided the Eagles to state titles in previous seasons.
"I don't think my style will change, regardless of public school or private school,'' Boyette said.
Boyette will not serve on the Fayetteville Academy faculty, which will allow him the freedom to continue two newer pursuits he has come to enjoy.
"They were willing to work with me,'' Boyette said. "I did not want to give up my radio shows.''
Boyette said he will continue to appear with broadcast partner Trey Edge Monday nights from 6-8 p.m. on The DK Sports Page talk show they host on WFNC, 640 AM. He will also continue to do high school football broadcasts for DK Sports, but he will have to give up broadcasting high school basketball with Edge since that would conflict with his coaching job at the Academy.
As soon as he learns the rules regarding offseason workouts for the private schools, he plans to start working with Academy players during the offseason.
"I want to sit down and meet the players, get to know them a little bit,'' he said. "We'll go ahead and start a few days a week with individual workouts. This is a situation where all I have to do is coach, there's no teaching involved, and that fits right in with my schedule.''
Boyette said he's glad to be back. "I missed working with the kids,'' he said. "I'm a competitive person. It's in my blood.''
Photos: Bill Boyette (right) and Trey Edge (left).