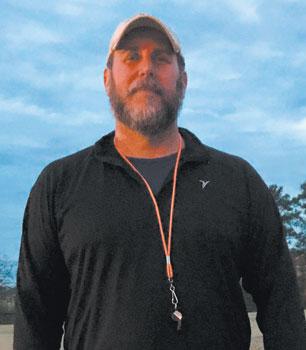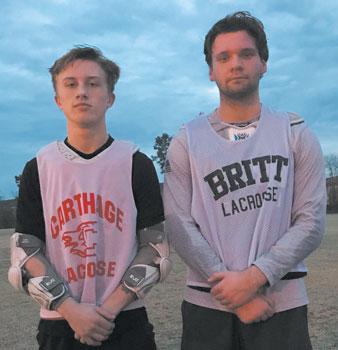 Jack Britt cleared one hurdle last year on the road to building a competitive boys lacrosse program, but head coach Scott Menoher knows the Buccaneers still have a long way to go before they'll be chasing state championships.
Last year, the team made its first appearance in the North Carolina High School Athletic Association state playoffs. "We established we can build a competitive program,'' Menoher said. "This year we were excited to see (that) with the conference shifts we were put in with Middle Creek, so we've got the defending state champion again.''
The good news for Menoher is the success the program has already enjoyed has apparently spurred increased interest in the sport. At Britt's first practice this year, before players from basketball and wrestling joined the workouts, Menoher had about 31 varsity and junior varsity players out.
By the time the wrestlers and basketball players finally arrive, he expects the number to swell to 50 total with a 50-50 split between varsity and junior varsity.
"We want to continue to improve our game and make ourselves more competitive,'' he said.
One way to do that will be by bringing lacrosse to athletes with no experience playing the sport. A good portion of the Britt team is made up of players who have ties to Fort Bragg and played lacrosse in other parts of the country, mainly the Northeast, before relocating here.
Two of the top players on this year's team, Matt Swierkowski and Connor Funck, fit that mold. Menoher said Swierkowski is a senior and Britt's lone team captain this season. "He's taken a larger role, grown in maturity and become a leader,'' Menoher said. "He is somebody I see as a guy who is going to be moving the ball down the field, directing the offense and leading the team forward.''
Funck came to Britt as a sophomore last year with previous lacrosse experience from his days in New York near Syracuse.
"He's one of those sparkles of talent we see,'' Menoher said. "He was an attack man last year, but he'll probably play midfield this year.''
Swierkowski agreed with Menoher that making the playoffs last season was a big step. "Not many people thought a lot about us before that,'' he said. "It was good to get a win so more people could recognize us.''
To grow the sport locally, Swierkowski thinks it's important to continue to introduce people not familiar with lacrosse to the game.
He thinks bringing it to the middle schools is especially crucial. "They can practice, start shooting, passing, getting into it with friends,'' he said. "That's the essential part, starting young.''
Funck agreed exposure of the game is important. "More kids will want to play it,'' he said. "There are kids that will want to try it out because it's something new.''
Introducing the game early is key, he said, because it's not the easiest sport in the world to get used to. "When I first started playing lacrosse, it took me awhile to learn how to pass and catch,'' Funck said. "I would say it took a good six months.''
Menoher is convinced there's another reason to keep growing lacrosse locally. He's thinks it can pay for itself quickly through gate receipts.
"We bring another Friday night sport like football in the spring for people to watch,'' he said. "It's a fast, high-scoring sport. Once you get a fan base, you'd be surprised how quickly those stands fill up.
"It is a potential moneymaker.''
Photos: Jack Britt boys lacrosse head coach Scott Menoher ; Connor Funck (left) and team captain Matt Swierkowski (right)