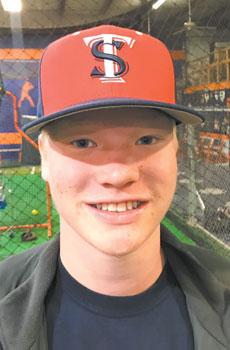 As mid-April approaches, the baseball outlook couldn't be much brighter for Terry Sanford. The Bulldogs are 13-2 overall, 9-0 in the Patriot Athletic 3-A/4-A Conference, with a two-game lead over their closest rival Pine Forest through April 11.
But the first thing coach Sam Guy will tell you is this team has yet to reach its full potential.
"When teams are winning, it's easy to lose focus on little things that matter later in the year,'' he said. "When you lose focus on those little things, they become big things when it's one and done. If you don't execute them when it's one and done, then you're done.''
One area where the Bulldogs have improved over previous seasons is hitting. Guy said during the off-season, particularly during workouts this fall and winter, offense was the focus.
"Andrew Jayne and Justin Ebert have been two really nice surprises,'' Guy said. The statistics on ncprepsports.net through April 5 showed Ebert and Jayne batting .514 and .452 respectively, with Ebert leading the counting in batting average.
Andrew's twin brother, Christian Jayne, is second in the county with a .488 average. One of the team's biggest surprises at the plate has been Davidjohn Herz, who came into the season known mainly for his pitching skills that made him an early commit to the University of North Carolina.
Guy said Herz, who got a late start in baseball because he was a member of Terry Sanford's state playoff basketball team, began the season batting seventh.
Since then he's crushed a couple of home runs, boosted his average to .429 and driven in 13 runs.
"He's made some adjustments and been our four- hole guy lately,'' Guy said. "He's been a nice addition to the middle of the lineup.''
His pitching record through April 5 was 2-0 with a 1.12 earned run average and 42 strikeouts in 25 innings.
Herz talks like his coach – not about what he's accomplished but about what he needs to concentrate on and fix.
"I need to start throwing more first-pitch strikes,'' he said. "I need to get ahead in the counts. I need to start getting fastball command, command of all my pitches and work on my changeup.''
Coaches from North Carolina frequently check on how Herz is doing. Guy said visits from college coaches and Major League scouts have been a bonus for other players on the Bulldog team.
"Guys are coming to our practices and games,'' Guy said of the various scouts. "I tell my other guys, they're not here to see you, but you can make them see you.''
One example is Bulldog pitcher Logan Brown, who stands about 5-feet-10 and throws consistently in the mid-80 mph range. "He competes every single pitch,'' Guy said. "I don't know what coach doesn't want that.''
At a recent game with South View, seven scouts attended and one of them began contacting various colleges on Brown's behalf. Other players who are getting looks include Will Rosser and Dorian Clark.
"It's nice for them and is going to help them in their pursuit of baseball after high school,'' Guy said.
Photos: (L) Terry Sanford baseball coach Sam Guy; (R) Davidjohn Herz