The annual Carver Classic track meet didn't offer a lot of highlights for the competing Cumberland County track teams, but there were some good moments.
Jack Britt's boys, despite having no individual winners, used their depth in multiple events to come away with the boys' team title.
A pair of local girls, Zinzili Kelley of Douglas Byrd and Djamilla Peterson of Pine Forest, took victories in the long jump and triple jump, respectively. Meanwhile, the 4x200 relay team from Pine Forest, composed of Jonathan Everett, Felix Patterson, Jordan Ferguson and Walter Brown, won that event.
Here's a brief look at each performance.
Britt boys triumph
Despite being without his best shot putters, Britt track coach Tyler Hood saw his boys score a victory in the Carver Classic with 85 points, edging secondplace Morrisville Green Hope with 78. The nexthighest Cumberland County entry was E.E. Smith in seventh place with 33.
"We do have a lot of depth in all areas, throwing events, sprinting events and jumping events,'' Hood said.
Leading the individual performance for the Buccaneers was sprinter Deangelo Davis. He took fifth in the 100-meter dash, seventh in the 200 and ran a leg on the third-place 4x100 relay and second place 4x200 relay
Hood said the key to continued success for Britt is keeping his team healthy and avoiding leg weariness before the postseason starts. "We want to keep them as fresh as possible,'' he said. He also hopes his squad can get in enough practice time on the rubberized track at nearby New Century Middle School.
"If we can do those two things, we've got a good shot,'' he said.
Kelly takes long jump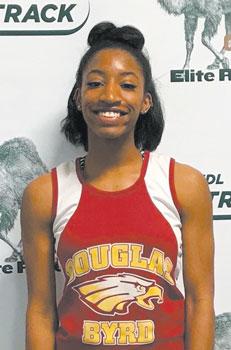 Byrd's Kelley said the Carver Classic is an important event for her and the Eagle track team. "It's where most of the competition will be,'' she said. "It's not like the regular Thursday meets where you run against two schools. There are amazing athletes there, ones that can win the regional and state.''
Kelley said she's been trying to get over knee problems and was still struggling with them at the Carver meet.
"I've been working mostly on my running, not my jumping,'' she said. "Mostly I was trying to get my speed up.''
She recorded her winning jump of 18-feet, 7-inches on her fourth jump. "I was one of the last few jumpers,'' she said. "I was listening to what everyone else was jumping, so I said I'm good, no one else is close.''
She's not a big fan of the facilities at Northern Guilford, where this year's 3-A regional meet will be held, so she's aiming for a top five finish there to assure a berth in the state finals.
"I'm just training, doing what I know and what I've learned so I can win,'' she said.
Photo: Zinzili Kelley
Peterson wins triple jump
Pine Forest's Peterson said she prepped for the Carver by posting a third-place finish in nationals where she turned in a triple jump of 38 feet, 3.5 inches. She took first in the Carver Classic with a leap of 37-3.
Although the competition she faced in the Carver was stiffer than what she sees in conference meets, she didn't try to attach any greater importance to it. "I just read it like every other meet,'' she said. "I want to qualify and (personal record) every time.''
She got her winning leap on her first try. She tried to better the effort in her remaining jumps but said "it just didn't happen.''
As she prepares for the stretch run to the regional and state meets, she has a simple focus. "Just keep practicing hard,'' she said.
Photo: Djamilla Peterson
Trojan foursome captures relay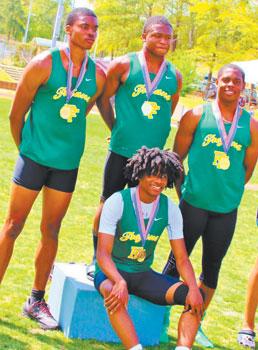 Pine Forest track coach Terry Wickham said the quartet on his 4x200 meter relay team has been consistently lowering its time in the event as the season has progressed.
"We have one new guy, Johnathan Everett, who never ran track before,'' Wickham said. "He's been a basketball player for the last four years.''
Everett ran the third leg for the Carver winning relay team. The other legs were Ferguson first, Brown second and Patterson fourth.
Pine Forest turned in a time of 1:28.84 to win the Carver despite what Wickham called one of the squad's worst handoffs of the season. "I think we can go faster than we have,'' he said.
The key to the rest of the season is participating in big meets to get the experience of running in front of a crowd.
"We are ranked first in the 4-A Mid-East and third overall in the state, but it's really close,'' Wickham said of the Trojan relay team. "Working on speed and handoffs is why you go to the bigger meets. You don't want to mess up there. The more you get to run at bigger competitions, the better you get at handling pressure. That's what it's going to come down to.''
Photo: L to R, standing: Jonathan Everett, Felix Patterson, Jordan Ferguson. Sitting: Walter Brown.