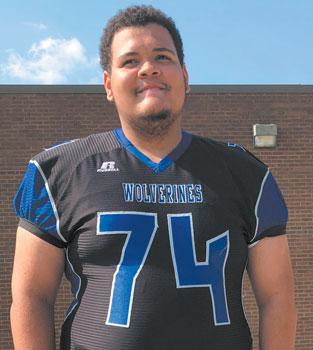 Craig Raye has barely been on the ground with his Westover football team a year, since he was a late hire prior to the 2017 season.
That's why an emphasis on this year's spring practice for the Wolverines was getting to know everyone and taking time to evaluate newcomers to the roster.
The good news coming out of spring is that it looks like Westover is going to have some depth to work with this season.
"A lot of our first liners weren't here,'' Raye said, referring to football players who were taking part in other spring sports for the Wolverines and missed the spring conditioning program. "We had the opportunity to work with some of the younger guys and give them some more individual attention.''
The Wolverines were 4-8 overall and 2-6 in the Patriot Athletic Conference last year, advancing to the state 3-A playoffs and losing 76-12 to Southern Nash in the first round.
"I think my biggest liability was not knowing some of the kids, and we had to play them out of position,'' Raye said. "We wanted to re-teach anything that wasn't taught the right way and get my philosophy in. I think that's what we've accomplished.''
Looking ahead to the fall, Raye thinks the Wolverines will be strong in the running game, led by the return of running back Dmarion Ford. Ford missed spring drills because of his involvement with the Westover track team. He led Westover in rushing last season with 633 yards.
He was an excellent kick returner, and Raye plans to make full use of that skill this season.
"We're going to give the ball to him every opportunity we have,'' Raye said. "Several colleges have been here to recruit him this year.''
Other veterans returning in the backfield for Westover are Da'niel King and Keyshown McLean.
Anchoring the offensive and defensive lines will be senior Pernell Shoulars, who stands 6-feet-5 inches tall and weighs 300 pounds.
"We expect him to lead the pack,'' Raye said.
Shoulars said the team has already gotten a lot closer as the result of the spring workouts.
"Coach Raye came in with a take charge attitude,'' Shoulars said. "He needed things done his way. Over the course of last season, we learned to accept his way, and that's helped us in the long run.''
Shoulars agrees with Raye that Westover should be able to run the football. "We've got some big boys in the middle and guards that are quick on their feet,'' he said. "Last year we were great in the passing game, and I don't think that's going to die down any.''
Westover will open the season with 4-A rival Seventy-First this fall, and Shoulars has set the bar high for himself. "I want to get at least seven tackles and three sacks,'' he said.
Shoulars knows the Wolverines will face a major challenge in the Patriot Athletic Conference, but he's looking forward to it. "It got tougher for us, but that only makes us the bigger underdog when we beat everybody,'' he said. "If we can get discipline, I don't see a team beating us.''
PHOTO: Pernell Shoulars