For a team that had won the first North Carolina High School Athletic Association 4-A fast-pitch softball championship in Cumberland County history, Jack Britt coach Sebrina Wilson said her players were surprisingly quiet on the ride home from NC State's Dail Softball Stadium a little over a week ago.
That changed when assistant coach Joe Myrtle pulled the white Cumberland County Schools activity bus off Interstate 95 at the Hope Mills off-ramp and saw a Hope Mills Police Department cruiser waiting to give them an escort back to the Jack Britt campus.
The team rolled down the windows of the bus and began hanging out, cheering and taking photos. It would continue several minutes later when they arrived at the Rockfish Road school and were greeted in the bus parking lot by a jubilant throng of the Britt faithful.
"That's when it set in,'' Wilson said of the historymaking title. "It's a special moment.''
Britt won the title series 2-1, beating South Caldwell 3-2 and 6-3 while losing the middle game 3-0.
It was the end to what was a truly rollercoaster ride of a season for the Buccaneers. Although Britt wound up as state champion, it didn't win the Sandhills Athletic Conference title, finishing second to a Richmond Senior team that beat them three times. Britt was also swept in two straight games in the Western 4-A Regional final by its state finals opponent, South Caldwell. At one stretch in March, Britt lost three in a row and four of five to league opponents.
The Buccaneers finished the season 25-6, with five of their six losses coming to conference opponents. But it was that tough league race that steeled Britt for the postseason. When the final
MaxPreps state 4-A softball rankings came out last week, Britt and three of its conference foes, Richmond Senior, Purnell Swett and Lumberton, were among the 20 highest ranked 4-A softball teams in the state.
Even after winning the first game of the state finals against South Caldwell, Britt was no-hit in the second game and facing elimination in a deciding game later in the day.
But the Buccaneers got a huge break when rain fell after Saturday's first game and forced a postponement until Sunday.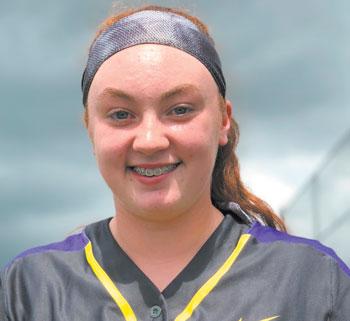 Carlie Myrtle, the freshman who had pitched all but one inning for Britt up to that point, said the delay was huge.
"I was really tired after the second game,'' Myrtle said. "It was really nice to get another day of rest before going out there and playing.''
Mackenzie George, who saw limited action pitching during the regular season, stepped in to start the final game on Sunday and made it to the second inning before Myrtle finished the final 5.1 innings, shutting out South Caldwell the rest of the way on two hits, one walk and one strikeout.
"They had already seen me twice,'' Myrtle said. "I knew I had to either step it up or show them something different.''
Myrtle started by throwing all inside pitches, which she said South Caldwell was thankfully often taking for strikes. "My changeup wasn't working very well, but it complemented my fastball pretty nicely and that was what held them at bay,'' she said.
Myrtle praised her defense, especially third baseman Savannah Roddey. "Savannah made five amazing plays,'' she said. "Big shout out to Savannah because she saved my butt.''
George took Most Valuable Player honors in the state championship series for the Buccaneers, particularly for her efforts at the plate in the final game, going 3-for-4 with an RBI and getting a single to start the game after Britt was no-hit the day before.
"She had an awesome tournament,'' Wilson said of George. "She put the ball in play, and she gave me something to make them think we have another pitcher. It gave them somebody else to look at.''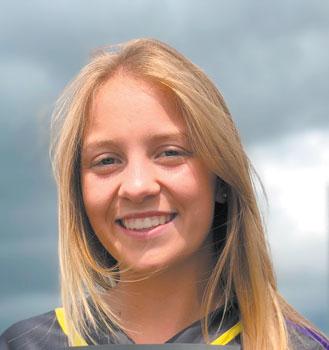 While George appreciated the MVP award, she said it wasn't hers alone. "It was a team effort,'' she said. "Anybody could have gotten it.''
Myrtle heads a group of talented freshmen that will return for Britt next season and make them an immediate contender for the 2019 state title. But no one is thinking about that just now. There is too much to celebrate.
"I cried so much,'' Myrtle said. "I love this team. I love that I won it with this team. Every single girl I've bonded with on this team.
"I loved them to death and I'm so glad I was able to do this with them.''
PHOTOS: (Top to Bottom) - Jack Britt softball coach Sebrina Wilson and assistant coach Joe Myrtle display the state championship trophy; Carlie Myrtle; Mackenzie George