All great teams have stars, but they're not always the reason a championship is won. Such is the case with this year's Jack Britt state 4-A softball champion.
All the pieces of a puzzle have to fit to make the picture complete, and a couple of big ones that found their way into Jack Britt's title portrait were Ashton Fields and Taryn O'Connor.
When regular shortstop Jessica McRae broke her nose in the Eastern Regional series with South Central and had to undergo surgery, it knocked her out of the state finals with South Caldwell. Enter freshman Fields, who had to be plugged into the lineup at first base when regular first baseman Rayven Shepard moved to shortstop to replace McRae.
Fields played flawless defense at first the entire weekend, and fielded a throw from third baseman Savannah Roddey to get the last out of the final game.
"We knew she would be nervous when we started, but you would have never known,'' said Britt coach Sebrina Wilson of Fields. "She stepped in and did everything.''
Fields had almost no experience at first base with Britt, but she played the position extensively in travel softball. "I wanted to make sure I didn't let the team down,'' she said.
Early in the first game, she gunned down a runner headed for third and said that gave her a boost of confidence.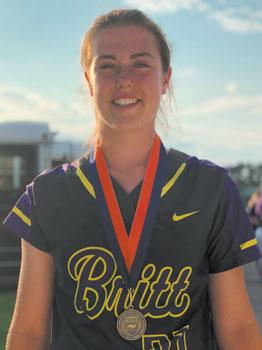 While the decision to move Fields to first was forced by injury, inserting Taryn O'Connor into the batting order the day of the final game of the title series was the result of Wilson's intuition.
Wilson had a feeling O'Connor was due at the plate and wanted to put her in the lineup. "Joe (assistant coach Myrtle) said she had a really great day in the cage,'' Wilson said. "She got aggressive and fouled off some pitches.''
She wound up going 2-for-4 in the title game with a double and two RBIs.
O'Connor couldn't explain what happened with her hitting. "God must have fallen in place for me,'' she said. "They just told me to hit how I was doing in batting practice.''
Wilson said there were other players who stepped up at key times for Jack Britt during the championship run. She mentioned Abigail Johnson, who got a big sacrifice fly in the playoff win over Fuquay-Varina and performed well as a courtesy runner in the title series with South Caldwell.
Kiara Ramos sparked a key rally for the Buccaneers in their playoff win over Wilmington Hoggard.
"The journey this year has been an adventure,'' Wilson said. "Everybody we asked to do a job; they did it.''
PHOTOS: (Top to Bottom) - Ashton Fields and Taryn O'Connor