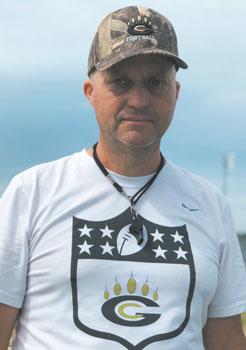 Last season, the Bears saw nine players go down with season-ending injuries and had several others who missed parts of the season because of injuries.
But, as head coach David Lovette likes to say, excuses are for losers, and this year during spring practice he began the work of trying to get back to what he described as "being Gray's Creek.''
On offense, he said that means finding what he called the team's north, returning to the kind of explosive running game the Bears' wing-t offense has been famous for under Lovette.
Defensively, he said the Bears want to do a better job of recognizing things and reading their keys.
Last year's rash of injuries saw the Bears go 1-10 overall and 1-7 in Patriot Athletic Conference play, beating only winless Douglas Byrd.
The Bears enter the 2018 season optimistic with depth at running back.
Andre Allen, who rushed for 693 yards and nine touchdowns last year, is back. "He's a very good athlete,'' Lovette said.
Also returning is Trey Beckett, who was a 1,000-yard rusher as a sophomore but dipped to 793 yards and seven touchdowns last season.
Beckett, like his coach, offered no excuses for how the Bears finished last year.
"You've got to push through with what you've got, regardless of who's playing out there,'' he said.
Also like Lovette, he wants the offense to be explosive again. "I remember seeing Gray's Creek running up and down the field on everybody,'' he said. "I want to get back to being great.''
As for his role on this year's team, Beckett said he wants to be a leader and set a good example for the younger players. "I'm telling them not to take anything for granted,'' he said. "I want to dominate the field, both sides of the ball.''
Also back for the Bears along with Allen and Beckett is Cedrick McDowell, who had 665 yards rushing and five touchdowns in 2017.
The versatile Trevor Thomas, one of the players Gray's Creek lost for the season last year, is being counted on to play multiple roles. "He's going to play some receiver, quarterback and running back,'' Lovette said. "We're going to try to use him different ways.''
The Bears lost one of their top defensive players with the graduation of Aaron Harrison, who will attend Charleston Southern.
A trio of players is expected to help lead the defense, among them Dominique McMillan, Isaiah Mills and Kendall Evans.
While Lovette is appreciative of the chance to practice in the spring, he wishes the North Carolina High School Athletic Association would follow the lead of bordering states like Tennessee and Georgia and allow a few days of full contact practice during the spring.
But, he said, "Any sort of practice is about getting better. That's our big thing. Hopefully we can achieve that.''
PHOTOS: (T-B) David Lovette & Trey Beckett