In the 2017 football season, South View's team continued its gradual return to the glory days of the program in the early part of the 21st century.
The Tigers of Rodney Brewington were 9-4, tied with Overhills for the best finish among 4-A schools in the combination 3-A/4-A Patriot Athletic Conference, and went on the road to get a firstround state playoff victory over Jamestown Ragsdale.
With four-year starter Donovan Brewington back at quarterback, along with a stable of solid skill players, the future looks bright for the Tigers.
Still, there are some holes that need to be filled.
Coach Brewington spent the spring practice sessions looking for what he called diamonds in the rough and players who can perform well at multiple positions.
His biggest worry this spring was to begin the difficult task of replacing the entire offensive line.
"Getting those young kids ready has been the biggest thing,'' he said after graduation took all five down linemen as well as the tight end.
If he is able to cobble together a solid group of blockers, they'll have plenty of talent to be blocking for, starting with Donovan Brewington at quarterback. The coach's son is the leading passer returning in the county, throwing for 1,906 yards last year and 21 touchdown passes. He was only intercepted three times and, along with departed Terry Sanford quarterback Christian Jayne, was the only county passer to complete 60 percent of his attempts, 63.1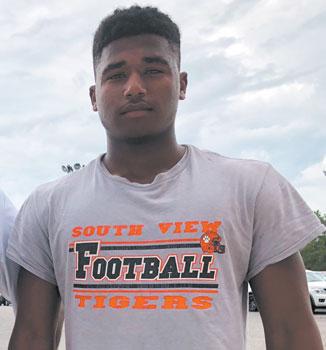 percent.
"He's the general on the field,'' Coach Brewington said of his son. "It's rare you have a four-year starter. It has been an interesting ride to watch him develop.''
Matthew Pemberton will likely lead the running back corps for the Tigers, while Emery Simmons returns as one of the top receivers in the Cape Fear region, having already given an oral commitment to Indiana. Last year he was the third-leading receiver in the county in total yardage with 55 catches for 997 yards and 12 touchdowns.
"Everybody's got their eye on them,'' said Donovan Brewington of his top target. "He opens it up for everybody else."
As he enters his fourth season as the Tiger quarterback, Donovan feels his knowledge of the game has improved and he's able to make better decisions in certain situations, maturing both as a quarterback and an athlete.
He plans to get more work in over the summer on his footwork and throwing mechanics.
"I'm looking forward to producing better numbers than we did last year,'' he said.
His experience is going to be crucial because of inexperience elsewhere.
"This is the youngest team I've coached in a long, long time,'' Coach Brewington said. "We'll be starting nine or 10 sophomores.''
PHOTOS: (T-B) Rodney Brewington & Donovan Brewington