With the loss of a talented senior class led by record-setting twins Christian and Andrew Jayne, Terry Sanford head football coach Bruce McClelland worked with a lot of new faces during this year's spring football practice.
But McClelland is hopeful he's got enough talented players returning to make another run at the Patriot Athletic Conference football title.
The Bulldogs were 11-2 last season, losing only to Cape Fear in league play en route to the championship and falling 42-41 to Jacksonville in the second round of the 3-A playoffs.
With Christian Jayne throwing often to Andrew Jayne last season, the Bulldogs were best known as a passing team, although they certainly were able to run the football.
Coming into the fall, McClelland said he has an open mind as to what kind of team the Bulldogs will be this year.
"I feel my duty is to work with the personnel I have,'' McClelland said. "We're going to run a similar offense. If we have the backs, we'll run the ball. If we have guys that step up at wideout, we'll throw it. But we're going to lay all the cards on the table.''
One of the big questions McClelland has to sort out is who will be the Bulldog quarterback this season.
Davidjohn Herz, a star pitcher for the Bulldogs' Eastern 3-A finalist baseball team last season, came off the bench in some critical situations to spell Christian Jayne last year.
While he may be the front runner for the job, McClelland said there will be an open competition for the starting job this summer and fall between Herz, who is a senior, and junior Jacob Knight. "Those two will have all summer to battle, and the scrimmage games,'' McClelland said. "We'll go from there. Whoever gives us the best chance to win will play.''
McClelland will also be looking for a new core of leaders on this team, but he's got some solid candidates back from last year, players like running back Leonard Mosley, offensive and defensive lineman Tanner Morris and the versatile Dante Bowlding.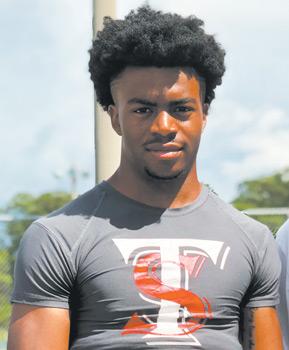 "The good sign of the spring is the definite transition of leadership,'' McClelland said. "It seems seamless with Dante and Tanner and the senior class stepping up. These guys are ready to work. That's not a coaching thing. That's a leadership thing.
"We can appoint whoever we want to be the leaders, but the kids are going to follow who they are going to follow.''
McClelland called Bowlding one of the best football players he's ever coached, and an even better young man. "You'll see him all over the field,'' McClelland said. "He returns punts and kicks. His primary position is safety, but he'll play some slot and wideout. He's going to give us the versatility to run multiple sets, offensively and defensively.''
Bowlding said as a junior he had to play a leadership role for the Bulldogs and doesn't expect it to be different this season. "We're mainly focused on trying to teach the new guys,'' he said. "We're obviously not as big as we were last year, but as long as you play with a lot of heart, it shouldn't matter.''
He thinks a lot of teams may look down on the Bulldogs because of the loss of the Jayne brothers, but he warns that's not a good idea.
"No team should really look down on you,'' he said.
PHOTOS: (T-B) Bruce McClelland & Dante Bowlding