For the Cape Fear football program, this is the year 1 A.J., as in after Justice Galloway-Velazquez.
The talented Cape Fear athlete is now a Campbell University freshman, after leading the Colts on the best four-year run of football in school history, a record of 43-13 that included a conference title, a 4-A state runnerup and Eastern 4-A runnerup finish.
"It's definitely going to be an adjustment for us and some of our guys,'' said Colt head coach Jake Thomas. "They're handling it pretty well.''
A player who will be fully in the spotlight for the Colts this fall is Cayden McKethan, who stepped in at quarterback for Galloway-Velazquez last year when he was battling injuries.
A sophomore this fall, McKethan completed 38 of 64 passes for 260 yards and two touchdowns.
"He's got a good grasp but it's a work in progress,'' Thomas said. "He's not as big as Justice (McKethan is 6-feet-0, 195 pounds). He's got good size, (he's) a good athlete and (has) decent arm strength. He's a smart football player.''
Aside from replacing Galloway-Velazquez, Thomas has concern about the wide receivers and the secondary, where the Colts will be replacing a lot of losses. "We don't have a lot of experience returning at those positions,'' Thomas said. "We're working on basic alignments, communication and knowing your assignments.''
There are some bright spots for the Colts going into the fall, Thomas said. Those areas include the defensive and offensive lines, linebackers and running backs. "For the most part, all those guys are back, so we feel good about them,'' Thomas said.
Coming out of the spring, Thomas hopes his players will be able to grasp the team's top three running and passing plays, as well as being able to line up in the right defense in response to the opposing offensive formation, along with reacting to any offensive motion.
Thomas welcomes back a number of players who are expected to play key roles this fall.
One of the biggest is Jaylen Hudson, who will be moving from linebacker to free safety. Hudson has already been getting college football offers.
Mark Burke will move from linebacker to strong safety, and T.J. Hale will move to a starting cornerback spot.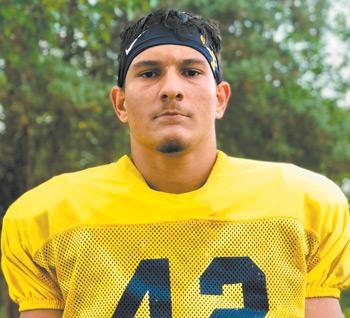 Rounding out the top returnees are Sincere Hale and Caleb Krings in the line, along with linebacker Austin Hunt.
Hunt is returning from an ACL injury that sidelined him last year. He and the other five players Thomas mentioned will serve as the Colt captains.
"Austin is doing good in the weight room and looks good out there,'' Thomas said.
Hunt hasn't been cleared for full contact and expects to be held out throughout the fall practices, possibly until the start of regular season, just to make sure he's fully healed.
"It's great to be with the guys once again,'' Hunt said. "My lateral movement and speed is back and I'm still physical like usual. The hardest part is the pain and soreness and my knee getting tired. I've got to build my endurance back up.''
Watching from the sidelines last season, Hunt saw room for improvement in Cape Fear's pass rush. "I wasn't too pleased with the sacks last year,'' he said. "Run-wise, we're pretty decent.''
Hunt said the formula for winning again this fall is simple. "We've got to play as a team,'' he said. "Everybody has to hold the rope. Everybody has to make big time plays for us. "We can't lag behind. We've got to take two steps forward every day.''
PHOTOS: (T-B) Jake Thomas & Austin Hunt