The annual East-West All-Star games and North Carolina Coaches Association Clinic returns to Greensboro the week of July 16-19.
The clinic annually draws thousands of high school coaches in various sports to Greensboro for clinic sessions with a variety of speakers covering sports specifics and changes in the rules.
In conjunction with the clinic, the East-West All-Star games are held in boys and girls basketball and boys and girls soccer and football.
Schedule for the All-Star games
Group ticket rates are available in advance of the All-Star games. Call 336-379-9095 for details.
• Basketball: Monday at Greensboro Coliseum. Tickets: $10 adults, $5 students. Parking: $5, Coliseum main lot. Game times: Girls at 6:30 p.m.; boys approximately 30 minutes after the girls game.
• Soccer: Tuesday at Macpherson Stadium, Bryan Park Soccer Complex. Tickets: $10 adults, $5 students. Parking: Macpherson Stadium lot. Game times: Girls at 6:30 p.m.; boys at 8:30 p.m.
• Football: Wednesday at Greensboro Grimsley's Jamieson Stadium. Halftime fireworks display. Tickets: $10 adults, $5 students. Parking: Free in main parking lot. Representatives of the Oasis Shrine will be taking donations for the Shriner's Crippled Children's Hospitals. Game time: 8 p.m.
Cumberland County All-Stars Profiles
At press time, only two athletes were scheduled to take part in the games, Talia Parrous of Terry Sanford for East girls soccer and Greg Walker of Seventy-First for East football. There are no Cumberland County coaches on the staff of any of this year's all-star teams.
• Talia Parrous, Terry Sanford East girls soccer 5-foot-6, forward.
Coach: Karl Molnar
Highlights: All-State as a senior. Scored 31 goals and had 23 assists. As a junior, Parrous was All-State, All-Region, All-Conference and the Cape Fear Valley Conference Offensive Player of the Year and Fayetteville Observer Player of the Year. She scored 25 goals and had 14 assists. As a sophomore, she had 24 goals and six assists. She also played basketball. She was a member of the National Honor Society, the Twelfth Man Club, Friends Club, French Club and Fellowship of Christian Athletes. She signed an athletic grant-in-aid with UNC-Wilmington to play soccer. She will most likely major in sports management or nutrition. Her mother is her role model.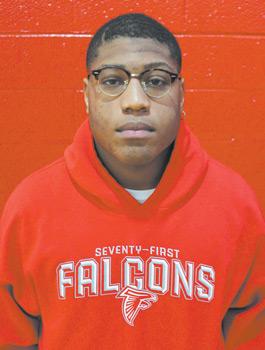 • Greg Walker, Seventy-First East football 6-foot-2, 260, offensive line.
Coach: Duran McLaurin
Highlights: As a senior, Walker was All-Conference, All-Region and All-910 All-Star. He won the Prestigious Helmet Award and had 18 pancake blocks. As a junior he was named Most Valuable Offensive Lineman. He signed an athletic grantin- aid with Johnson C. Smith where he will major in business. Coach Kellikai Aipia is his role model.