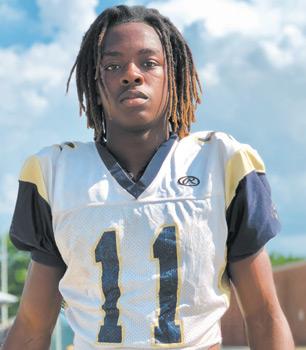 E.E. Smith came within one win of a worst-to-first turnaround in football last season.
Deron Donald's Golden Bulls tied for last place in the old Mid-South 4-A Conference in 2016, only to finish in a tie for second place in the Patriot Athletic Conference last season, going 9-4 and earning a first-round state 4-A playoff win over West Carteret.
"We want to continue what we've started,'' said Donald.
Smith will be hard-pressed to repeat the performance this year as the Golden Bulls were seniorheavy in 2017 and suffered major graduation losses.
"We had a big senior class and they all played vital roles in our success,'' Donald said. "Right now we're trying to find some true leaders, people that can carry the torch and keep it going in the right direction.''
Among the biggest departures was versatile quarterback Xeavier Bullock, who earned a scholarship at Fayetteville State University. He was one of two 2,000-yard passers in the Patriot Conference last season, throwing for 2,165 yards and 22 touchdowns with only five interceptions.
The heir apparent to Bullock at quarterback is senior Angel Holden. Holden saw limited action last season, getting a chance to play quarterback when Bullock was briefly sidelined by injury. Holden completed eight of 15 passes for 141 yards and a touchdown while throwing no interceptions.
"His approach and offseason preparation has been excellent,'' Donald said of Holden. "We hope he can be the leader we know he can be and keep it going in the right direction.''
Smith's top returner at any position is the talented Toshiro Spivey, wide receiver. Spivey had 37 catches for 612 yards and five touchdowns a year ago.
"We're counting on him to do a lot of good things for us,'' Donald said.
Spivey said he's already been working with Holden during the spring to improve the chemistry between the two. "He can move, and he throws the ball very well,'' Spivey said of Holden.
As for the whole team, despite the graduation losses, Spivey thinks the Golden Bulls learned a lot from the experience of going from 3-8 to 9-4 in one year.
"The key thing is the foundation is already laid,'' Spivey said. "It's all about building on it.''
Although the Golden Bulls will be young this season, Spivey thinks the team will make up for lack of experience with a bundle of speed and overall athleticism.
By the time fall workouts officially open in a couple of weeks, Spivey is hopeful Smith will be cohesive. "I want everybody to know what we're doing, what we're fighting for,'' he said, "everybody in one accord, one mindset.''
The key for everyone will be gaining maturity quickly, Donald said. "There's no one area of concern,'' he said. "We've just got to grow up and grow up fast.''
PHOTO: Toshiro Spivey