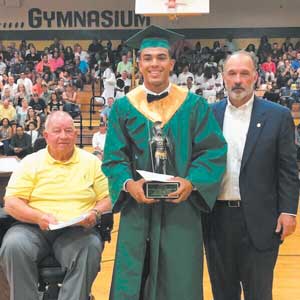 When former Pine Forest football coach Gary Weller learned his former players Jimmy Keefe and Andy Dempster wanted to name a foundation after him aimed at providing scholarships to Pine Forest athletes, he said he wasn't given a choice.
"We are using you just like you used us,'' said Weller, joking. "I distinctly remember him saying that. I did probably abuse them, but when I saw what they were trying to do, it was a great, humbling experience to get these scholarships out.''
Keefe, a Pine Forest graduate and Cumberland County commissioner, said the idea for the foundation started small about four years ago when some coaches at Pine Forest passed the hat to raise $500 for a scholarship for a Pine Forest student who'd been facing difficult times.
The practice continued informally until Keefe and Dempster decided the project needed to get even bigger.
"This is too good a story, helping out too many kids,'' Keefe said. "We want to up it a little bit. We want to be a bigger part of more kids' lives as far as scholarships coming through.''
That's when he approached Weller about using his name and calling the project the Gary Weller Foundation.
The choice of Weller to be the face of the project was obvious for Keefe and others involved.
Fourteen years ago, Weller was severely injured when he was run over by a motorist in a stolen vehicle. Multiple bones were shattered in his lower body, and he now uses a motorized wheelchair to get around.
"That day in April 14 years ago changed Gary's life, but it didn't change Gary,'' Keefe said. "He's still a coach, he's still a friend when you need it, and he's still the first person to help you out when you have a friend in need.''
Another reason Keefe and others wanted to name the foundation for Weller was because of the investment he made into the Pine Forest football program when he became head coach some 40 years ago.
"He really took a personal interest in a lot of kids,'' Keefe said. "I know there were some kids who would not be as successful as they were today if it weren't for the personal outreach Gary did as a coach and as a father figure. Doing little things makes big impacts for kids.''
Recently, Weller and Keefe presented a pair of $500 scholarships to two Pine Forest athletes, football and basketball player Julian Hill and wrestler Daniel Peede. Hill will attend Campbell University while Peede is going to the United States Military Academy at West Point.
"It may be only a $500 or $1,000 scholarship now, but that may be the difference for that kid being able to improve themselves down the road,'' Keefe said. "We hope to be able to be giving some big-number scholarships coming up.''
Scholarship winners are chosen by a committee headed by longtime Pine Forest football coach Bill Sochovka.
The general requirements of the potential candidates are they must be a student-athlete at Pine Forest who has faced some kind of adversity and come out of it successfully.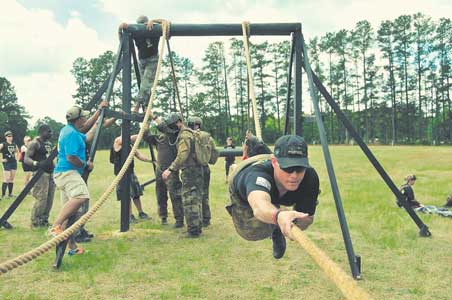 Keefe mentioned a previous winner, Leah Evans, who was a cross-country athlete before being injured in a car accident and having to go through an extended period of rehab. She recovered and placed 24th in the 2016 Mid-South 4-A Conference crosscountry meet.
"That's the sort of criteria we look for,'' Keefe said.
Keefe said the foundation committee has set a goal of raising $50,000 in three years. One of the big steps toward that goal is coming on Oct. 13 when the foundation will host the first Trojan Challenge, a 5K military-style obstacle course on the Sturtz Family Farm in Linden.
The entry fee is $60, and complete information is available at www.trojanchallenge.org. Participants will get a Trojan Challenge T-shirt and receive a medal when they finish the course.
"We thought the Trojan Challenge obstacle course would be something different,'' Keefe said. "We like the idea of an obstacle course. Some will have football drills, not to mention real tier-one obstacles.''
Keefe called the course a symbol of what Weller has had to go through since his injuries. "It's not simply running and putting one foot in front of the other, but ... addressing obstacles and beating them,'' Keefe said. "I think Gary has certainly done that in the last 14 years.''
For those who may not be interested or able to tackle the obstacle course, you can make direct donations to the Weller Foundation on the challenge website.
For the last two years, the Weller Foundation scholarship winners have been honored at a senior night ceremony in the Pine Forest gym. Weller presented the awards with Keefe and said it was a memorable experience each time.
"The principal, David Culbreth, had the awards at night so the parents can come,'' Weller said. "To be in front of that group and give this award is an awesome feeling. It humbles you to be able to do that.
"I want to see it grow so we can give a substantial amount of money.''
PHOTO: Gary Weller, seated, and Jimmy Keefe, standing, present scholarships to Julian Hill (top) and Daniel Peede (middle). (Bottom) The Trojan Challenge, which will debut Oct. 13 at Sturtz Family Farm in Linden, will feature Special Forces-style obstacles.