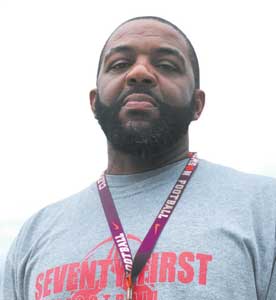 Editor's Note: This story was written prior to the arrival of Hurricane Florence in the Fayetteville area the weekend of Sept. 14.
High school football coaches are used to analyzing film and formulating game plans for each opponent throughout the annual football schedule.
But Cumberland County coaches were dealing with a host of unknowns recently as they awaited the approach of Hurricane Florence to see how it would impact both their teams and the remainder of the 2018 high school football season.
Up & Coming Weekly reached out to the coaches of a handful of teams who are near the top of their standings headed into what some were concerned might be a lengthy delay in the season.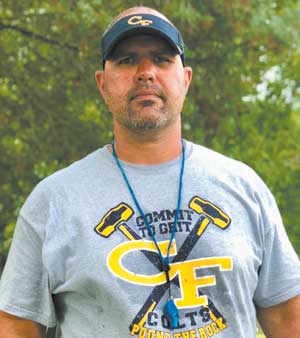 The biggest concern for all of them was the safety and well-being of their fellow coaches and athletes as they braced for a storm some experts suggested could be the worst one ever to strike the region.
Duran McLaurin of Seventy-First voiced the main concern of all the coaches, worrying for his players who might be displaced by the storm and how the wind and water could do damage to their homes.
"I'll be happy to have them back, make sure they are all fine; then we can get back to football," he said.
The potential delay is especially frustrating to McLaurin as the Falcons are coming off their first loss of the season, 36-32 at Southern Durham. Prior to that game, Seventy-First had risen to a No. 10 ranking in the first Associated Press state 4-A high school poll of the season. "Having to sit around and wait only makes me ponder on the mistakes we made in the last game,'' he said.
But headed into the break, McLaurin's focus was on safety. "We're ... focusing on things that are important, just looking out for one another,'' he said.
South View coach Rodney Brewington, who has the only unbeaten team left among Cumberland County Schools at 4-0, said his players have pledged to run on their own to try and stay in shape if they are away for an extended time following the storm.
"Football is really secondary and we are hoping nobody loses their homes and everybody can be made whole again,'' he said.
His worry when the team does return is what he calls football jet lag. "Tt doesn't take you long to get out of football shape,'' he said. "It's like a kid coming off an injury. He's a step slow.
"When you've got your whole team away from it, you're limited as far as what you think you can do.''
Terry Sanford coach Bruce McClelland said routine is critical to success in a high school football team and being out of school unexpectedly is a major disruption. McClelland said Terry Sanford is dealing with multiple injuries of key players and had hoped to spend most of the week of the storm taking advantage of a bye week and giving some younger players work in practice.
"Not having them on the field to focus is a big concern,'' McClelland said. But the safety of all the players is the biggest concern, he added, saying several players lost their homes in Hurricane Matthew.
With big wins in its last two outings, Cape Fear had built some momentum, but Colt coach Jake Thomas and his team are now forced to wait and watch.
"We tell the kids you can't worry about things out of your control,'' he said. "That's our mindset going ahead. We won't know anything until this has passed through.''
Thomas hopes his players will go home, watch videos of previous games on the HUDL video service, and possibly, if it's safe, get outside and practice on their own. But he said the first thing he told them was to go home and ask their parents what they needed to do to secure their homes.
After player safety, Pine Forest coach Bill Sochovka is concerned how much time all of the teams will have to practice when they return before having to play a game.
"It was one thing when we were supposed to play on Wednesday,'' Sochovka said, referring to a plan that had the schools playing the games of Sept. 14 two days earlier before they were postponed indefinitely. "We had two days to practice and we had been practicing all summer,'' he said. "Now these kids could be sitting, hopefully not a week. Trying to get them back into a groove is somewhat difficult.''
Sochovka was also concerned some of his players weren't grasping how bad the storm could be.
"They are waiting to see what happens, to see if it's for real, and that's what worries me,'' he said.
Photos Top to Bottom: Duran McLaurin; Jake Thomas; Bill Sochovka; Rodney Brewington; Bruce McClelland