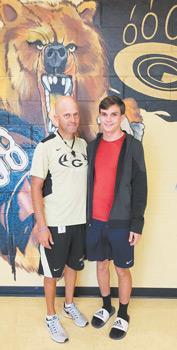 The experience of having his son on his football team isn't new for Gray's Creek football coach David Lovette.
Three years ago, David's oldest son, Ty Lovette, was a starting offensive lineman for the Bears – but as his dad says, that's a different circumstance.
"No one cared that he played offensive line,'' Lovette said, somewhat jokingly. "He never got his name in the paper.''
The situation is much different now that Lovette's son Ben is playing quarterback for the Bears. In a spotlight position like that, both he and his dad are targets for criticism and second-guessing. But the way the younger Lovette has been playing so far has left critics with little to talk about.
In their biggest game since returning to football after the layoff caused by Hurricane Florence, Ben played a starring role as Gray's Creek stunned Patriot Athletic Conference power Cape Fear 20-16 to turn the race for this year's conference title, especially the chase for the No. 1 playoff berth for the 3-A winner, wide open.
Ben completed six of 12 passes for 116 yards and threw a pair of touchdown passes, one to Trevor Thomas and one to Dalton Patrick.
For the season, Ben has completed 28 of 51 passes for 389 yards and four touchdowns. He's only thrown one interception.
Ben has been playing quarterback since middle school. "He always had a good arm and ran fairly decent,'' Coach Lovette said of his son. "He's a smart kid, and he's going to make some good decisions.''
Even with those assets, Coach Lovette realized that coaching his own son in a high-profile position like quarterback was a potentially tricky situation.
When he coached his oldest son, there wasn't as much need for direct contact between head coach and player, so he made a decision to let all coaching face-to-face be done by his position coach.
When dealing with a position like quarterback, though, it's almost impossible for the head coach to completely cut himself off from talking to the that player.
"I've got to treat him like everybody else, and I think I do a pretty good job of that,'' Coach Lovette said. For some communication on the field with his son, Coach Lovette gets an assist from Blake Smith, one of his former players who's now an assistant coach and works with the offensive backs.
"If I get upset with him, he's the one who's going to fuss at him so I don't get fired for killing my own son on the football field,'' Coach Lovette joked. "Blake does a good job with him and being the mediator.''
At the same time his dad deals with the challenge of coaching his son, Ben has his own problems coping with the pressure of being in the spot- light at quarterback.
"I think over time my teammates have realized I'm going to do my job and they are going to do theirs,'' Ben said. "We're all going to perform to the best of our ability. If someone is better than me, they'll get the job, but right now, I'm doing it.''
Ben said the win over Cape Fear was a big confidence booster for the Bears, but they've already put it behind them and are looking to the next game on the schedule.
"Winning the conference, that's our goal,'' he said. "We've got to keep moving forward and playing our best, playing as a team.''
As mentioned earlier, Gray's Creek's win over Cape Fear has turned the Patriot Conference race wide open.
Because the league is a split conference with 4-A and 3-A teams, there are No. 1 state playoffs available for both classifications.
Entering the games of Oct. 5, South View and Pine Forest led the chase for the No. 1 4-A berth as they were both unbeaten in conference play, with South View the only league team that had no losses overall.
The Gray's Creek win left the Bears tied in the loss column in the conference with Cape Fear and fellow 3-A team Terry Sanford, all with one conference defeat.
While there are two No. 1 berths available, Coach Lovette said he and his team are focusing on the outright conference championship.
"I think we need to win out,'' Coach Lovette said of the rest of the schedule. "That's our goal. That's what we talked about today in practice, keeping our edge and not being satisfied with where we are.''
Coach Lovette knows the Bears have a tough schedule ahead, but added their opponents also have tough games remaining.
"It's a fairly even conference race,'' he said.
Photo: David Lovette (left) and Ben Louvette (right)