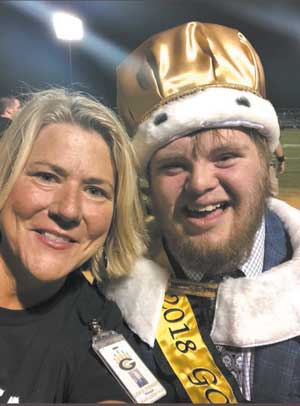 When Earl "Early Bird" Horan IV was announced as homecoming king at Gray's Creek High School's homecoming game recently, it was just a small sign of the overwhelming support the Gray's Creek family has showered on special needs students like Horan and his counterparts.
Earl Horan III, Horan's father, is a special education teacher at Gray's Creek and has been a first-hand witness to how open and supportive the school has been of its special needs population.
"They have jumped in with both feet,'' the senior Horan said. He and his son came to the Gray's Creek community four years ago, and Early Bird immediately began hanging out with the football players and making friends on the team. His father also involved him in the school's wrestling program where he made more friends.
Eventually, the elder Horan approached football coach David Lovette about getting his players involved with young Earl's Buddy Football team. The Buddy sports program helps promote activities for special needs youngsters.
The Gray's Creek football team has continued its involvement with Buddy football ever since. Coach Jeff Nance, who coaches the Gray's Creek baseball team and is the school's adaptive physical education coach, has been involving his team with the Very Special Arts Festival every year.
Meanwhile, bowling coach Sam Bullard has two of Horan's autistic students on the Gray's Creek bowling team.
Non-sports groups like Future Farmers of America and the school chorus have also incorporated special needs students into their programs.
But one of the biggest steps forward took place last year when Vernon Aldridge, student activities director for Cumberland County Schools, began promoting the idea of offering Unified Sports programs.
Unified Sports is a project promoted by Special Olympics that helps partner athletes with intellectual disabilities with traditional athletes who help their partners compete in select events in sports like track and field.
Last year, the first Unified Sports athletes from Cumberland County took part in local track meets.
"We had tons of volunteers and over 20 students on our team,'' Horan said. He said Gray's Creek athletic director Troy Lindsey made sure the team members had everything they needed to compete.
In other developments, the school has partnered with Terry Sanford High School soccer coach Karl Molnar, who with his wife Kim has founded an organization called Miller's Crew that offers opportunities for special needs students to become more functional in society. They have opened small businesses operated by the special needs students at West Bladen and Jack Britt High Schools. Gray's Creek will soon open a coffee shop in the former teachers' lounge.
Horan said the experience is heartwarming because the students have so much to give.
He said a doctor once told him that special needs children are God's example of how things should be on Earth.
"They've got the purest souls, the sweetness,'' he said. "They lift everybody up by being around them. They are innocent.''
When Early Bird was named homecoming king, Horan said the students treated his son like a rock star.
"He was bum-rushed before he got off the football field,'' Horan said.
Asked what he enjoyed most about the experience, Early Bird said talking to the girls and waving to the crowd while he rode around the field in a convertible wearing his crown and cape.
"We don't just put them in a hut like we did back in my day,'' Horan said of the special needs youngsters. "I think Cumberland County Schools is doing everything correctly. They are in the forefront of inclusion of the special needs population. It's really heartwarming.''
Photo: Gray's Creek principal Lisa Stewart (left) poses with Earl Horan, homecoming king (right