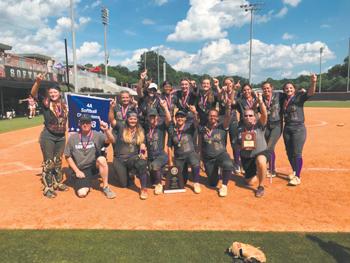 Here are the High School Highlights top ten stories for Cumberland County for last year as voted on by a panel of Up & Coming Weekly staff and select voters from around the county.
1. Jack Britt softball team makes history.
The first week of June, the Jack Britt High School softball team became the first in Cumberland County history to win a North Carolina High School Athletic Association fast-pitch state softball championship. Cape Fear High School and South View High School had previously won slow-pitch state titles, but the Buccaneers took the first fast-pitch championship when it defeated South Caldwell two games to three in their best-of-three championship series at North Carolina State.
MacKenzie George of Jack Britt was named the most valuable player in the championship series. In the final game she was 3-for-4, scored twice and drove in a run. She was 2-for-4 in the opening game, scored a run and drove one in. Britt finished the season 25-6.
The state title marked an amazing comeback for a Britt team that at one point in March lost three games in a row and four of five to teams in the Sandhills Athletic Conference.
As it turned out, that stretch of tough competition within its conference helped push Britt to success in the postseason. When the MaxPreps state 4-A softball rankings came out after Britt's title run, it showed conference teams Richmond Senior, Purnell Swett and Lumberton were all ranked among the 20 best 4-A softball teams in the state.
2. Cape Fear High School wins a top honor from the NCHSAA.
At the May annual meeting of the NCHSAA in Chapel Hill, Cape Fear High School received the 2017-18 Exemplary School Award.
The award is presented on behalf of the NCHSAA, the North Carolina Coaches Association and the North Carolina Athletic Directors Association.
The award recognizes a school for having a "total" program that includes success in athletics, the scope of athletic opportunities offered, community interest and involvement in academics. Other areas of recognition include sportsmanship and the professional development of coaches and administrators.
In a press release announcing the award, NCHSAA commissioner Que Tucker said Cape Fear was richly deserving of the award and had demonstrated a commitment to education and excellence second to none among its peers in North Carolina.
"Athletic director Matt McLean and his staff are truly leading the way in student engagement and achievement,'' Tucker said. "We are very proud of their hard work and dedication to education-based athletics and the NCHSAA.''
3. Cumberland County enjoys one of its best years in recent memory in the NCHSAA football playoffs.
Cumberland County had multiple teams make deep runs in the NCHSAA football playoffs, led by Seventy-First's advance to the 4-A Eastern Regional finals against Scotland High School.
Four teams advanced to the third round. Seventy- First and South View met each other in the 4-A playoffs. Pine Forest, the regular-season champion in the Patriot Athletic Conference, hosted Scotland High School.
In 3-A, Terry Sanford reached the third round before falling to perennial power Havelock.
Jack Britt also advanced to the playoffs, losing in the first round of 4-A.
In 3-AA, Cape Fear and Gray's Creek made the first round.
4. Brothers Andrew and Christian Jayne both picked in major league baseball draft.
Brothers Andrew and Christian Jayne, who starred on the football and baseball fields for Terry Sanford, were both chosen in the major league baseball draft.
Andrew was taken in the 19th round by the Baltimore Orioles while brother Christian went in the 27th round to the Arizona Diamondbacks.Both had previously signed to play college sports, Andrew with Davidson College in football and Christian with East Carolina University in football.
Andrew elected to sign a minor league contract and was assigned to the Orioles rookie league team in the Gulf Coast League. He batted .212 with 11 doubles, two triples and two RBIs. Christian elected to enroll at East Carolina and will join the Pirates baseball team this spring.
5. Cumberland County Schools becomes a leader statewide in promoting Unified Sports.
Cumberland County Schools, with a strong push from student activities director Vernon Aldridge, becomes a state leader in promoting the Unified Sports program. Unified Sports promotes allowing special needs students to participate in select competitive athletic events with the assistance of mainstream athletes in those sports.
A relay team from Gray's Creek High School made history during the spring by becoming one of the first Unified Sports teams from Cumberland County to bring home a state championship.
6. Former South View and Duke basketball standout Jeff Capel III named head coach at University of Pittsburgh.
In May, Jeff Capel III, who led South View to a state 4-A basketball championship as a player in 1993 under the late Ron Miller, left his job as a long-time= assistant at Duke University to become head coach at the University of Pittsburgh. Capel was a head coach for five seasons at the University of Oklahoma, where he led the Sooners to the Elite Eight in 2009, sparked by current NBA star Blake Griffin.
Capel returned to Duke in 2011 and was an assistant coach for Mike Krzyzewski until accepting the Pittsburgh job. In 1993, while a player under the late Ron Miller at South View, Capel led the Tigers to a 31-1 record and the school's only state 4-A boys basketball title. 7. Fayetteville Academy wins the school's 17th state boys soccer title.
Another year, another soccer championship for the Eagles. Led by senior North Carolina Soccer Coaches Association All-State forward Hudson Zeisman and Julian Barbaro, the Eagles rolled to the school's 17th state soccer championship. Fayetteville Academy defeated Gaston Day 3-1 in the finals to finish 14-2. Zeisman had 22 goals and 12 assists for the state champions. Barbaro suffered a torn meniscus in Fayetteville Academy's Senior Day game, missed one game in the state playoffs, then returned to help the Eagles in their march to the state championship.
8. Wrestling trio brings home state titles.
Three Cumberland County High School wrestlers brought home individual titles in this year's NCHSAA individual wrestling championships. The winners included Daniel Peede of Pine Forest, Dallas Wilson of Cape Fear and Mike Vernagallo of Cape Fear.
Wilson followed in the footsteps of his dad and coach, Heath Wilson, who was also a state champion at Cape Fear. The younger Wilson became the first sophomore in Cape Fear's rich wrestling history to bring home a state title, taking the championship at 132 pounds in the 3-A classification.
His teammate, Vernagallo, recorded his second state championship, winning the 3-A 160-pound title. Peede won the 4-A 152-pound championship after a near-miss in the 2017 season.
9. Cumberland County enjoys banner year in Shrine Bowl selections.
It was a banner year for Cumberland County in the number of local coaches and students chosen to take part in the nation's oldest high school all-star football game. Named as coaches for North Carolina were assistant coaches Ernest King of Westover and Marcus Wall of South View. Chosen as players were Tanner Morris of Terry Sanford, along with Emery Simmons and Donovan Brewington, both of South View. Also chosen to take part in the game was student athletic trainer Marianna Blount of South View.
The game ended in a 10-10 tie with the team from South Carolina, the first tie in game since 1948.
10. Holiday Classic undergoes major format change.
The Cumberland County Holiday Classic basketball tournament, no stranger to different formats, underwent one of its biggest changes ever for the 2018 edition. Under the leadership of Vernon Aldridge, student activities director for the Cumberland County Schools, the tournament was divided into four separate brackets, two for girls and two for boys, each one determining a champion. The Cumberland County schools were split up to prevent them from having to face each other too many times, with five county teams in each bracket mixed with an assortment of outside teams.
Each of the four brackets was named after a former outstanding county basketball coach. The two boys brackets were named for former coaches Len Maness of Terry Sanford and Ike Walker Sr. of E.E. Smith. The girls brackets were named for Westover's Gene Arrington and Pine Forest's Tom Jackson.